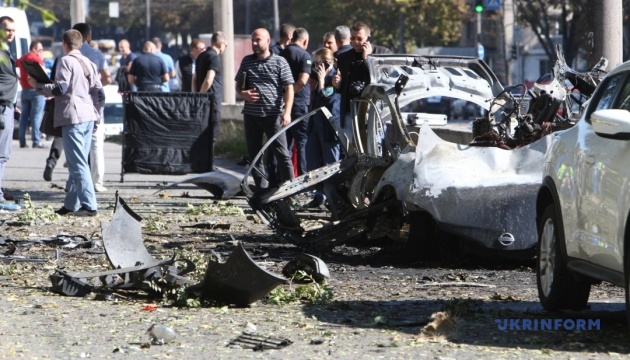 Car explosion takes two lives in Dnipro: Police qualify incident as terrorist attack
Law enforcers have qualified this morning's car blast in the eastern Ukrainian city of Dnipro, which killed two, as a terrorist attack.
That's according to the press service of the Ministry of Internal Affairs, Ukrinform reports.
"Explosion in Dnipro. As of 10:30, it was established that a male and a female were in the car. Both have been tentatively identified due to their IDs found at the scene. Criminal proceedings have been launched with preliminary legal qualification under Art. 258 (terrorist attack) of the Criminal code of Ukraine," the statement reads.
On Wednesday morning, an explosive device blew up a Nissan Primera on Bohdan Khmelnytsky Avenue in Dnipro.
According to the State Emergencies Service, one of the victims in the attack was identified as Darya Hrechishcheva, head of the media and public relations department at the SES's regional office.
Media reports claim another victim was a war veteran, Oleksiy Kavlak.