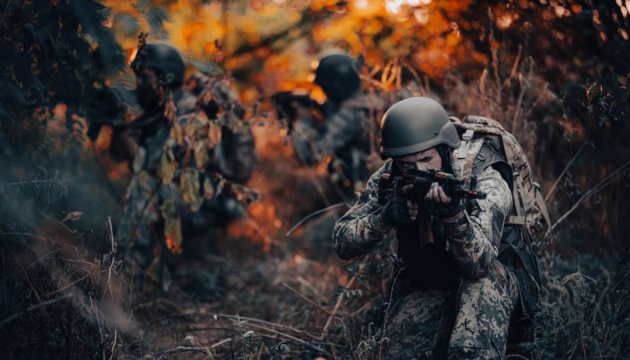 Enemy trying to regain positions near Klishchiyivka, Andriyivka
The Defense Forces of Ukraine continue the offensive operation south of Bakhmut. Over the past 24 hours, 115 occupiers were eliminated, two ammunition depots and an electronic warfare station were destroyed.
"Our defenders continue the offensive operation south of Bakhmut. In particular, over the past day, we had success near Klishchiyivka, Odradivka, and Shumy where our defenders continue their offensive, knock the occupiers out of the occupied lines, and gain a foothold. Also, the enemy does not abandon the idea of regaining the lost positions near Klishchiyivka and Andriyivka, constantly assaulting and firing on the positions of our defenders. We hold the defense," Illia Yevlash, head of the press service of the Eastern Group of the Armed Forces of Ukraine, said during the United News telethon.
According to him, over the past day, the enemy shelled the positions of Ukrainian defenders 544 times with various types of weapons, including heavy artillery systems and tanks. There were seven combat engagements, the enemy used its tactical and army aviation four times. Defense forces eliminated 115 occupiers in this direction, three Russians surrendered.
The spokesman added that the defense forces managed to destroy four Msta-B and Msta-S howitzers, one Pion self-propelled gun, two Giatsint guns, seven D-30 guns, two MT12 Rapira anti-tank guns, three vehicles, two ammunition depots and an electronic warfare station.
Yevlash confirmed that the defense forces were holding the section of the Bakhmut-Horlivka highway under fire control, striking the enemy with all available weapons and UAVs.
"It is much more difficult for the enemy to deliver various types of support to its group in this direction, as well as to the settlement of Bakhmut since it is one of the key routes in the southern direction," the spokesman explained.
PMC Wagner and Kadyrov forces stay on this part of the front but do not pose a serious threat to the Ukrainian troops, Yevlash added.