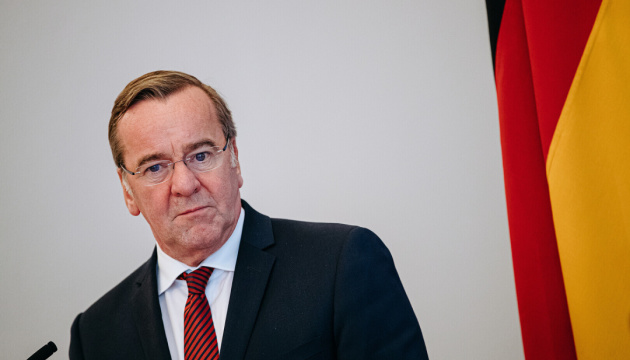 Pistorius: Ukraine must win war, determine parameters of victory
German Defense Minister Boris Pistorius stated during his visit to Tallinn that Ukraine must win the war, while the definition of victory depends only on Ukraine, so this cannot be the basis of Germany's national defense strategy.
The minister spoke with Estonia's broadcaster ERR, Ukrinform reports.
"The purpose of the national defense strategy is not to say who should win the (Russo-Ukrainian, - ed.) war. I stated absolutely clearly that Ukraine must win the war. How to define victory depends only on Ukraine, not on us. It has nothing to do with our national defense strategy," Pistorius said.
At the security conference held in Tallinn, the head of the Federal Ministry of Defense also confirmed the stability of support to Ukraine in its fight against Russian aggression. "We will support them (Ukrainians, - ed.) for as long as it takes," Pistorius said.
At the conference, he also confirmed plans to transfer a Bundeswehr brigade to Lithuania as soon as the relevant infrastructure is ready. The details should be clarified by the end of the year, in particular, the "road map" for infrastructure preparation should be finalized by the end of November. According to these plans, 4,000 Bundeswehr soldiers, including their families and children, will be permanently stationed in Lithuania.
Pistorius emphasized that this is the first time that Bundeswehr troops will be permanently deployed on foreign soil. The Canadians are developing similar plans with their so-called "framework country" (within partnership relations in NATO) Latvia. Accordingly, Great Britain plays a leading role in supporting the Estonian Armed Forces.
As reported by Ukrinform, on Tuesday, the Minister of Defense of Germany visited Riga. At a meeting with him, Latvian President Edgars Rinkevičs thanked the German Armed Forces "for their presence in the Baltic states and plans to increase their numbers."