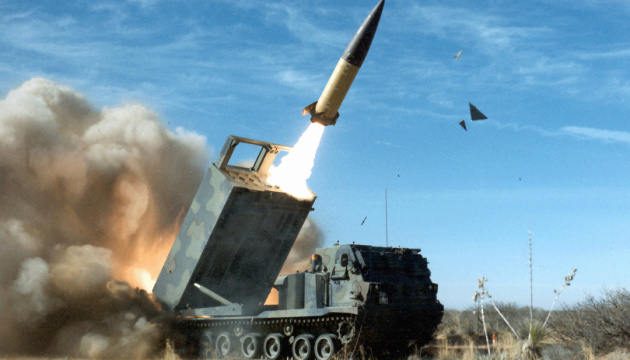 U.S. could soon green-light cluster ATACMS for Ukraine - Zaluzhnyi's ex-advisor
The U.S. authorities are finalizing a decision to send Ukraine long-range cluster munition rockets to be fired by HIMARS systems.
That's according to Dan Rice, the former special advisor to Commander-in-Chief of Ukraine's Armed Forces Valeriy Zaluzhnyi, who currently holds the position of American University Kyiv's President.
Speaking with Ukrinform, Rice said the decision to provide Ukraine with long-range cluster munitions is "about to be made" in Washington, according to his sources in the U.S. capital.
He emphasized the role of DPCIM (dual-purpose improved conventional munition) on the Ukrainian battlefield.
"Armchair generals will always use cliches like 'there are no silver bullets'. That's rubbish. DPICM is the silver Bullet. Ask anyone on the front lines since 155mm DPICM showed up. Now, HIMARS DPICM is 100 times more powerful and impactful on this war. The 155mm has 88 submunitions. The HIMARS have 644, 512, and 950. But their ranges are 30, 45, and 165 km," said Dan Rice.
According to the ex-advisor, the 950 submunitions are not just 10 times more powerful than the 88.
"It's 100 times because it will take out a grid square accurately 165 km away. So it is exponentially more impact on the war," he stressed.
ATACMS stands for Army Tactical Missile System, a surface-to-surface tactical ballistic missile manufactured by Lockheed Martin.
Missiles and rockets are intended for M142 HIMARS, M270 MLRS, and other modifications.
A dual-purpose improved conventional munition (DPICM) is an artillery or surface-to-surface missile warhead designed to burst into submunitions at an optimum altitude and distance from the desired target for dense area coverage.
Dan Rice has played a crucial role in promoting the supply by the U.S. of 155mm cluster munition rounds earlier this year.
Earlier in September, DoD officials said Ukraine's Armed Forces had been utilizing U.S.-provided DPICM responsibly and effectively.
Also, U.S. envoy to the UN, Robert Wood, told the organization's Security Council that cluster munitions provided to Ukraine have practically no impact on UXO contamination of territories given their low failure rate unlike those used by Russia.