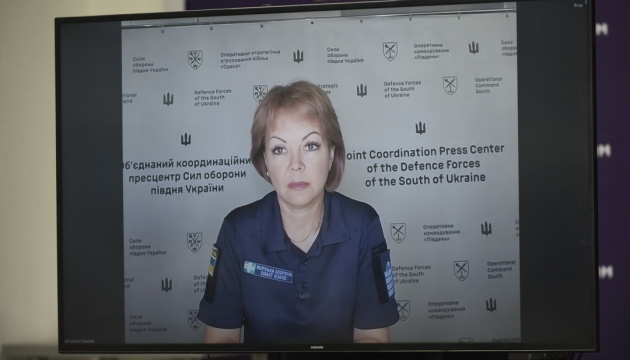 Russian invaders hit Odesa with 19 drones, 12 missiles overnight – military spox
The Russian army used 19 attack drones and 12 missiles of various types in an overnight attack on Odesa on September 25.
Nataliia Humeniuk, the spokesperson for Ukraine's Operational Command South, said this on Ukrainian television, Ukrinform reports.
"The Odesa region, like the southern regions in general, came under a massive and complex attack. Some 19 Shahed-131/136 attack drones were launched at the region, and all of the 19 were destroyed. Simultaneously, in fact, the enemy used sea-launched Kalibr missiles. At the same time, there was a surface missile carrier on combat duty in the Black Sea, armed with eight missiles, and 12 were launched. That is, in addition, a submarine was deployed from Novorossiysk Bay without actually leaving the bay, which added four more missiles," Humeniuk said.
She added that the missiles used a very complex trajectory, maneuvered all the time and approached from different directions, trying to exhaust Ukrainian air defenses.
Humeniuk reported that the enemy had also used two Oniks missiles that were fired from the Bastion missile system in temporarily occupied Crimea. According to her, these are supersonic anti-ship missiles that are extremely difficult to shoot down.
According to her, the attack targeted the coast, port and grain infrastructure.
In addition to hitting a granary, the enemy also struck the building of the Odesa sea station with a Kalibr cruise missile.
"The attack itself lasted more than one-and-a-half hours and was characterized by extreme density," Humeniuk noted, adding that it made the work of Ukrainian air defenses very difficult.
"In fact, both drones and missiles of various types were detected in the same direction, and this forced the air defense systems to work in a very tense mode," she said.
Humeniuk also recalled that a few days ago the enemy had already used Onisk missiles against the recreation area of Odesa.
Photo: Southern defense forces