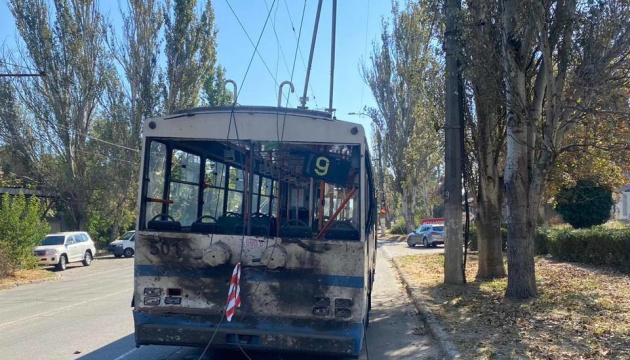 Russian army shoots at trolleybus in Kherson - killing policeman and injuring two passengers
A 49-year-old police sergeant was killed in Kherson as a result of enemy artillery shelling, and two more people were seriously injured.
Oleksandr Prokudin, the head of the Kherson Regional Military Administration, reported this on Telegram, Ukrinform reported.
"Russian troops fired on a trolleybus in Kherson. Two passengers were injured - men aged 33 and 57," he said in a statement.
Prokudin added that the victims were hospitalized.
Interior Minister Ihor Klymenko wrote that a 49-year-old police sergeant was killed by Russian artillery.
Klymenko also noted that a warehouse building caught fire as a result of the shelling. Rescuers are extinguishing the fire over an area of about 1000 square meters.
As reported, on September 18, Russian troops fired at an ambulance in the village of Mykolaivka, in the Kherson region. At the time, the medics were treating the injured.