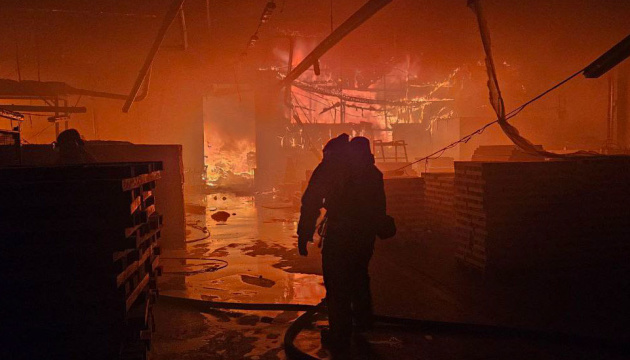 Night drone attack: three hits on industrial warehouses in Lviv
Last night, the Russian army, according to preliminary data, launched 18 Shahed attack drones in the direction of the Lviv region.
Maksym Kozytskyi, the head of the Lviv Regional Military Administration, reported this on Telegram, according to Ukrinform.
During the air raid, which began at 3:40 a.m. and lasted almost 2.5 hours, the Lviv region was attacked by Shahed kamikaze drones.
"According to preliminary information, 18 such drones were flying in the direction of our region. 15 of them were shot down by the West PMC forces. Seven were shot down directly in the airspace of the Lviv region. The numbers may change a bit, the information is being clarified, but even now we can imagine the scale of the attack and the scope of work that the air defense of the region had to do," emphasized Kozytskyi.
According to him, there were three hits to industrial warehouses in Lviv. A 26-year-old man who was in the warehouse at the time of the attack was injured. He was hospitalized in moderate condition. A woman was also at the site of the attack, she did not need hospitalization.
"There are fires in the warehouses in four locations. The fire is still being extinguished. I want to emphasize that these are ordinary industrial warehouses. Nothing military was stored there," said the head of the RMA.
In Lviv, the area of the fire caused by enemy drones reached 9,450 square meters. This was reported on Telegram by the State Emergency Service.
"At about 5:00 a.m., Russian drones attacked the city. As a result, three warehouse buildings on the area of 9,450 square meters caught fire. There are victims. Firefighting continues," the post says.
The Lviv State Emergency Service added on Facebook that about 125 rescuers and more than 30 units of special equipment are working at the scene.
"Rescuers are currently eliminating the consequences of the enemy attack. The work is ongoing, all relevant services are working at the scene," the SES said.
As reported, at night on September 19, the Air Defense Forces shot down 27 enemy attack UAVs of the Shahed-136/131 type.