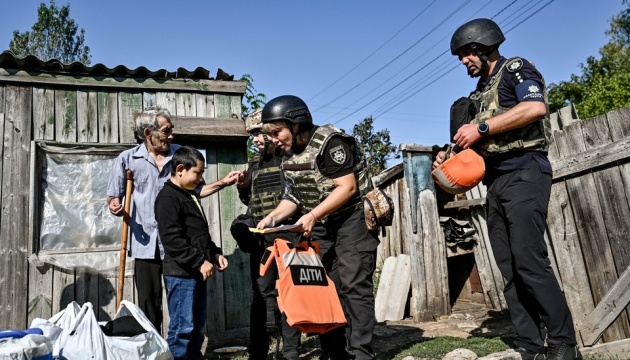 Family with child taken from Stepnohirsk as part of forced evacuation
Forced evacuation of families with children continues in two districts of the Zaporizhzhia region. Today, police evacuated another family with a 10-year-old boy from the village of Stepnohirsk.
An Ukrinform correspondent reported this from the scene.
"We left for Zaporizhzhia in May and lived there for three months. Then we returned to Stepnohirsk. I thought I would at least put something in storage for the winter. At that time, it seemed to me that everything was calm at home. And then the shelling started. There was shelling every day," said 61-year-old Natalia Anatoliivna.
She lives with her husband, daughter and grandson in a small private house. Almost all of their neighbors have already left. Those who stayed also say they will not spend the winter there.
Natalia says there is no water in the village to water the garden, so she has to fetch it from the church near her house.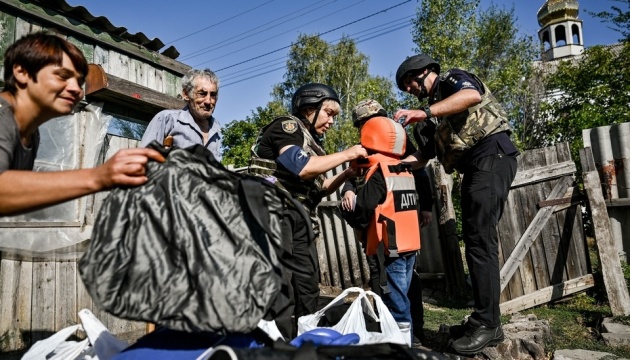 Due to the constant shelling, the village has no electricity and problems with mobile communication.
But the worst thing is the shelling with incendiary shells.
"It's scary. I hide under the bed and cover my head with a pillow. When there are no sparks, I come out," said 10-year-old Dmytro.
The boy is in the 4th grade, but due to problems with the Internet, he cannot attend classes online.
He misses the neighborhood children who left earlier, and he says he really wants candy and cookies. They are not among the humanitarian aid.
Svitlana, Dmytro's mother, says that she will return to Stepnohirsk from time to time to look after the house. She plans to look for a job in the city. She says the most important thing is the safety of her son and parents.
According to Natalia Shyshkova, a juvenile police officer, there are still four families with children in the village. They are currently being discussed with them to make sure they will leave in the near future.
"The most difficult families are still ahead of us. There is a family with a small child - they are looking for housing and will leave. Two more families have a household, keep cows and do not know what to do with it, they cannot leave," said the law enforcement officer.
As reported, the evacuation of the population from the communities located in close proximity to the front line has been carried out since April. During this time, many families have left. As for the forced evacuation, it was announced in the Vasylivka and Pohorivka districts of the Zaporizhzhia region. As of early September, families with 54 children had to be evacuated.
Currently, about ten families are left.