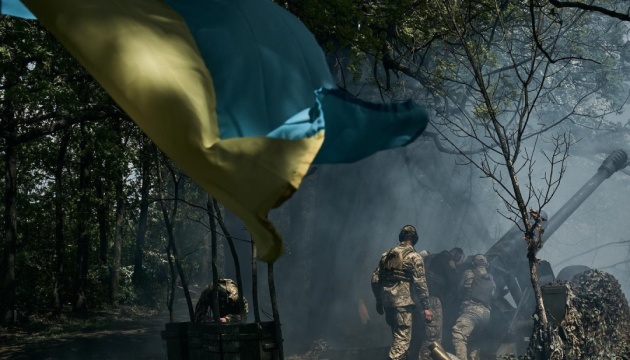 Ukraine advancing despite Russia's desperate resistance in Donbas
The situation in the east of Ukraine remains difficult as the enemy forces are trying to advance in the Kupiansk direction and undertaking assault efforts near Lyman, while Ukraine's troops are advancing in the conditions of the enemy's desperate resistance on the Bakhmut axis.
That's according to Deputy Minister of Defense Hanna Maliar, Ukrinform reports.
"In the Kupiansk direction, the enemy does not stop its attempts to advance. They are carrying out numerous attacks, trying to hit our infrastructure. Fighting continues. Our soldiers heroically repel the enemy and break all their plans. It is no less hot in the Lyman direction. There, the enemy made unsuccessful assault efforts with the aim of displacing our troops in the areas of Serebryansk Forestry, Kreminna, and Bilohorivka, Luhansk region. In addition, the enemy is currently planning to regroup and replace troops in this area. Active fighting is also going on in the Bakhmut direction, where the enemy is constantly attacking, using armored vehicles and aviation. Their goal is to hamper our advance at any cost. At the same time, we are gradually advancing even in conditions of desperate resistance," Maliar said.
According to the official, the situation in all eastern directions is tense and dynamic. Therefore, decisions in such a situation must be well-thought-out and quick at the same time. Ukraine's commanders work out every detail of their operations directly on the spot, calculate all possible scenarios of further developments, and promptly plan further steps, the deputy minister noted.
As Ukrinform reported earlier, as of August 21, some 43 square kilometers of Ukrainian land had already been liberated in the Bakhmut direction. The advance of Ukrainian troops has become notable along the southern flank around Bakhmut.