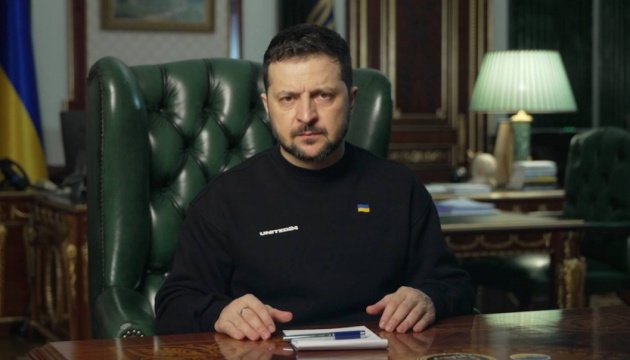 Zelensky: Ukraine retains seized initiative in war
President Volodymyr Zelensky believes that Ukraine has seized and now retains the initiative in the ongoing war unleashed by Russia.
He said this in a speech to Ukrainian youths on the occasion of International Youth Day, reports Ukrinform.
"We've seized the initiative in this war, and we retain it. Ukrainian steps matter. Our steps made with you. The steps of the entire people of Ukraine, each and every one of you. And everyone wants to hear the answer to the question 'when will the war end and how should we build a life when there is a war raging?' But when we talk about war, the question is "how": how brave everyone is, how effective everyone is, how target-oriented, and how tired everyone is because they are doing something specific that brings the main thing closer – our common victory. And now is not the moment for some entertaining conversations, not the moment to waste time. I would say so. Now, Youth Day in Ukraine is not just 24 hours. And this is not just some date in August. This is every day because war is a time when everyone is needed every day. When everyone achieves such an important result together with everyone else for the sake of our country, our people, our land, and our freedom," Zelensky said.
He noted that Ukrainians go through difficult moments every day amidst the sirens of air raid alerts, Russian strikes, and brutal battles on the front lines.
And the fatigue of Ukraine's heroes is absolutely objective. More than 17 months of full-scale war. But it is precisely this fatigue that will be the core of Ukraine's freedom and independence. Fatigue is not limited to those who are currently on the front lines. "When you protect freedom, when you help our defense, when you fight, when you compete, when you work, when you study, doing all this for the sake of our state – this is your fatigue. And this is your virtue, your achievement, and evidence that you cannot be defeated. And this is the most important thing," the president emphasized.
The head of state emphasized that "the unbreakable are not those who don't get tired or don't feel anything at all."
"The unbreakable are those who add their every day to joint efforts for victory. And no matter what the terror is, no matter how many times the siren sounds in Ukraine, no matter how the occupying forces threaten us, we still add strength to Ukraine. And that is why this occupier is on the defensive, in total defense. And that is why the world expects victories from Ukraine every day. They await pretty much any victories, even small ones," the president emphasized.
As Ukrinform reported earlier, President Volodymyr Zelensky established in 2021 that Youth Day be celebrated in Ukraine on August 12, which corresponds to International Youth Day.
Photo: President's Office