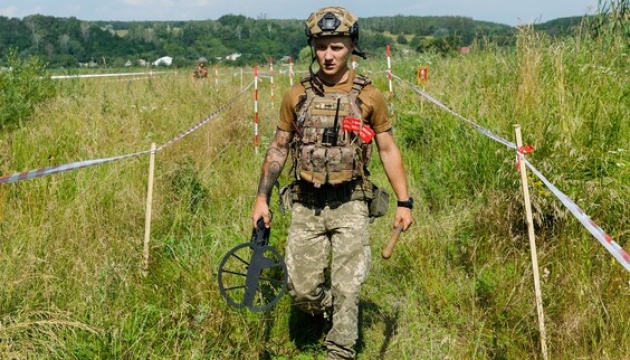 Liberated village of Tsyrkuny in Kharkiv region fully demined
The village of Tsyrkuny, Kharkiv district, was completely cleared of explosive objects after being liberated from Russian invaders.
This is reported by the Kharkiv Regional Military Administration, Ukrinform saw.
"Up to 20 bomb squads worked daily to clear the territory on a total area of more than 750 hectares. K9 units and two specialized demining vehicles were also involved," said the Civil Protection Department chief, Ivan Sokol.
According to the official, the bomb squads started demining the settlement in May 2023.
As a priority, sappers cleared local roads, educational and healthcare facilities, and places of mass gathering. After that, the teams went on to demine power lines, infrastructure facilities, and the residential sector.
As Sokol noted, two sappers were killed while performing their duties in Tsyrkuny, and another technician was injured.
According to the administration, during the demining effort in Tsyrkuny, bomb squads discovered and neutralized more than 1,500 explosive objects, namely: anti-tank mines, unexploded MLRS munitions, various types of anti-personnel mines, etc.
As Ukrinform reported earlier, in June 80% of houses in Tsyrkuny in Kharkiv region were demined.
Tsyrkuny is a village on the Kharkiv ring road, the administrative center of the Tsyrkuniv community, which had been under occupation for 72 days before being liberated in early May 2022. The invaders destroyed all the community's enterprises and infrastructure.
Photo: kharkivoda.gov.ua