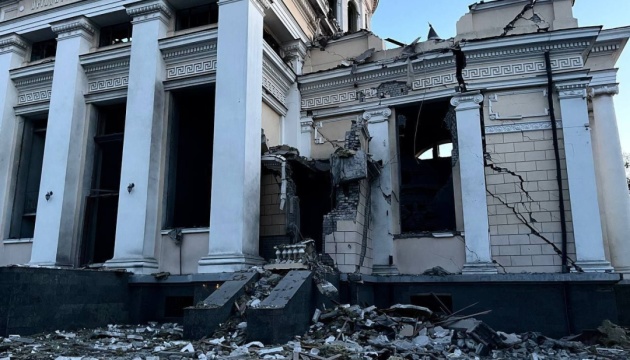 Zelensky shows pics of devastation in Odesa following Russian attack, vows retaliation
President Volodymyr Zelensky of Ukraine says Ukraine will definitely deliver a response to Russian terrorists for their strikes on Odesa.
He wrote about this on Telegram in a caption to photos showing the consequences of the latest massive strike on the city.
"Missiles against peaceful cities, against residential buildings, a cathedral... There can be no excuse for Russian evil. As always, this evil will lose. And there will definitely be a retaliation to Russian terrorists for Odesa. They will feel this retaliation," Zelensky wrote.
Help is being provided to all those affected by this yet another terrorist attack, Zelensky noted.
He expressed his gratitude to all those who provide assistance to Odesa residents, and to all those whose thoughts and prayers are with Odesa.
"We will get through this. We will restore peace. And for this, we must defeat the Russian evil," the president emphasized.
As Ukrinform reported earlier, during the missile attack overnight Sunday, the Russian forces hit Odesa region with at least five types of missiles: Kalibr, Oniks, Kh-22, Iskander-K, and Iskander-M.
Tentative reports say one person was killed and 22 were injured.