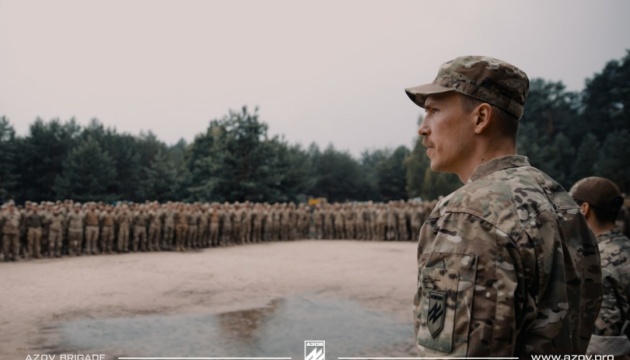 Azov Brigade commander meets with personnel, announces his return to service
Azov Brigade commander, Lieutenant Colonel Denys "Redis" Prokopenko, who recently returned to Ukraine after being released from Russian captivity, met with the personnel and announced his return to service.
"While in captivity, I said that for me this war will not end until we return our last fighter from captivity and restore the borders of Ukraine to the state of 1991. I am a soldier. I am not interested in any other areas of activity, except military affairs. My heart, my soul, my body belong to Azov," Prokopenko said, the press service of Azov posted on Telegram.
According to him, the main efforts today should be aimed at combat training and replenishing the unit with personnel, equipment and weapons.
It is noted that Lieutenant Colonel is currently undergoing rehabilitation and will soon resume his duties.
As reported, on July 8, the commanders who led the defense of Azovstal steelworks in Mariupol returned to Ukraine from Türkiye. Azov Regiment commander Denys "Redis" Prokopenko, Azov Regiment deputy commander Sviatoslav "Kalyna" Palamar, senior officer Oleh Khomenko, acting commander of the 36th Separate Marine Brigade Serhiy "Volyna" Volynskyi, and commander of the 12th Brigade of the National Guard of Ukraine Denys Shleha returned home.