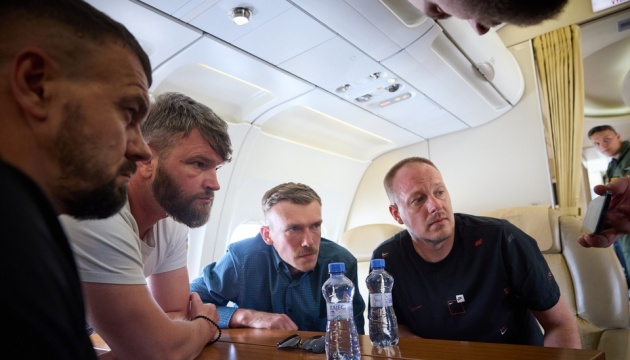 Ukraine returns home five defenders of Azovstal following talks with Türkiye
Ukraine has returned home five defenders of the Azovstal steelworks who stayed in Türkiye after being released from Russian captivity.
That's according to the website of the head of state, Ukrinform reports.
"According to the negotiations with the Turkish side, Ukraine returned to their homeland the military – defenders of Azovstal: Commander of the Azov special operations unit of the National Guard, Hero of Ukraine Denys Prokopenko, his deputy Svyatoslav Palamar, acting Commander of the 36th Separate Marine Brigade Serhiy Volynsky, Senior Officer of the Azov unit Oleh Khomenko and Commander of the 12th Brigade of the National Guard Denys Shleha," the report said.
The soldiers were in Türkiye after being released from Russian captivity.
President Volodymyr Zelensky met the defenders at the Istanbul airport and congratulated them on their return.
"I congratulate you! You are our heroes. I am very glad of your return to your homeland. Glory to Ukraine!" he said.
On the plane, Zelensky talked with the defenders of Azovstal and thanked them for their courage and resilience.
Zelensky said earlier that he was returning from Türkiye with Azovstal defenders who had been there since September 2022.