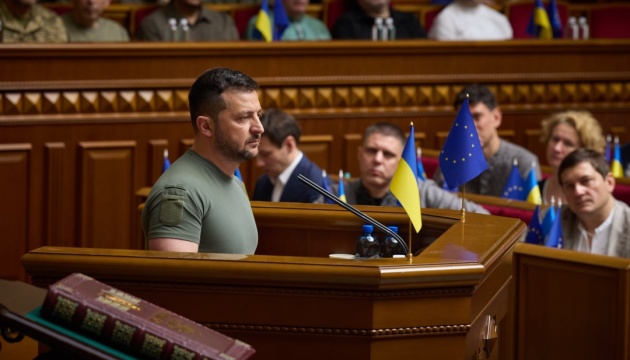 Zelensky: There should be national agreement in Ukraine to define our victory
Ukraine must have a national agreement on the vision of how to win the war.
This was stated by President Volodymyr Zelensky during a speech in the Verkhovna Rada on the occasion of Constitution Day, an Ukrinform correspondent reports.
"When we talk about Ukraine's victory in this war, the war for freedom and independence, we are saying specifically that Ukraine's victory is the liberation of our entire territory from Russian occupation. We will not leave any part of Ukraine to the enemy. Ukraine's victory is the expulsion of all Russian military formations, mercenaries and militants from the territory of Ukraine. And it is the return to Ukraine of all our people who were captured by the Russians or forcibly deported from Ukraine to Russian territory. The victory of Ukraine is the restoration of Ukraine's sovereignty within the internationally recognized state borders of Ukraine without any restrictions, the sovereign rights of Ukraine," the President said.
He noted that Ukraine will choose alliances for itself and its future. "Obviously in the European Union, obviously in NATO," he said.
According to Zelensky, the path to our victory is difficult, and now no one can say when we will go through it to the end.
"But there must be national agreement on how to define our victory. When the goal is clear, when the goal is fair, it does not matter how thorny the path is. Ukraine will go this way, and it is no longer a dream, it is a reality," he emphasized.
As reported, Deputy Defense Minister Hanna Malyar said that Russia is conducting information and psychological attacks in parallel with missile attacks to undermine the resilience and unity of Ukrainians.