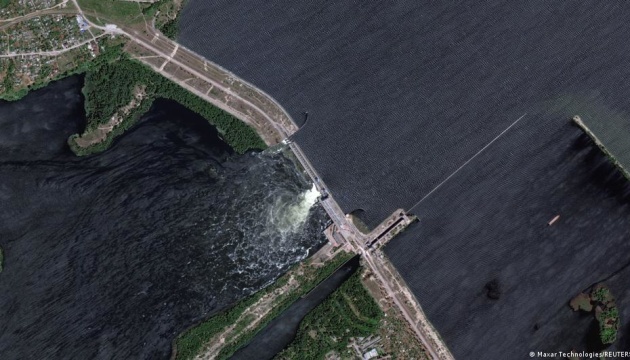 Flood from Kakhovka HPP dam explosion disrupts Russian defensive positions - ISW
The destruction of the Kakhovka HPP Dam is significantly changing the geography and topography of the Kherson frontline sector in southern Ukraine and disrupting Russian military positions on the eastern bank of the Dnipro River.
That's according to the Institute for the Study of War, Ukrinform reports.
In its latest report, the think tank said near-infrared (NIR) imagery indicates that the flooding is "heavily disrupting Russian prepared defensive positions" on the east bank of the Dnipro River – especially affecting Russian first-line positions in Hola Prystan and Oleshky.
Various sources reported that Oleshky, Hola Prystan, Kozachi Laheri, and Dnipryany are "almost entirely flooded" with water levels rising to the height of a one-storey buildings in some areas.
The Ukrainian headquarters established to remediate the consequences of the dam's destruction reported that as of June 7, 29 settlements are partially or fully flooded, 19 of which are located on the Ukrainian-controlled territory and 10 on Russian occupied territories.
Flooding will likely worsen and further change the geography in Kherson region over the next 72 hours, the report notes.
"The flooding has destroyed many Russian first line field fortifications that the Russian military intended to use to defend against Ukrainian attacks. Rapid flooding has likely forced Russian personnel and military equipment in Russian main concentration points in Oleshky and Hola Prystan to withdraw. Russian forces had previously used these positions to shell Kherson City and other settlements on the west (right bank) of Kherson," the report concludes.