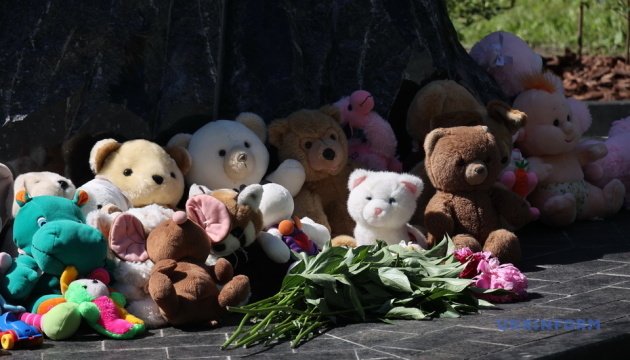 Head of State: 485 children confirmed as killed by Russians in Ukraine, but real number higher
A total of 485 children have been officially confirmed as killed since the Russian invasion started, but the real number is higher.
The relevant statement was made by Ukrainian President Volodymyr Zelensky in his video address, an Ukrinform correspondent reports.
"The rescue operation in the town of Pidhorodne, Dnipro region, where a Russian missile destroyed houses, has already been completed. 25 people were injured, five of them children. Davyd, who is 6 years old, is in serious condition and hospitalized. Denys, 11, is also in serious condition and hospitalized. Oleksandr, 15, is also in serious condition. Liza, 17 years old, is undergoing outpatient treatment. Kira, 10 years old, has a mine-blast injury, she is undergoing outpatient treatment. It is painful to see such reports. Liza, a 2-year-old girl, was killed by this Russian missile. Probably an Iskander missile. My condolences to the family and friends," the President of Ukraine said.
In his words, every time Ukrainian forces liberate settlements from Russian occupiers, they learn the terrible truth about the occupation: about how many people, how many children are buried in the occupied territory, and how many more are still under the ruins in Ukrainian cities and villages burned by Russia.
According to Zelensky, at least 19,505 young Ukrainians, who had been forcibly deported by Russian invaders, are waiting for their return home, to Ukraine.
"Today in our country is the day of remembrance for children who died as a result of Russian aggression. Since 2014. Children who would have been alive if a bunch of thugs in the Kremlin, in Moscow, hadn't considered themselves chieftains who allegedly had the right to decide the fate of nations. Each of these bandits will be convicted. I have no doubt about it. All the necessary legal institutions are working for this result," the Head of State stressed.
President Zelensky thanked everyone in the world who helps the work of the International Criminal Court and its team in investigating Russian crimes on Ukrainian soil, as well as those who help to organize a special tribunal for Russia's crime of aggression against Ukraine.