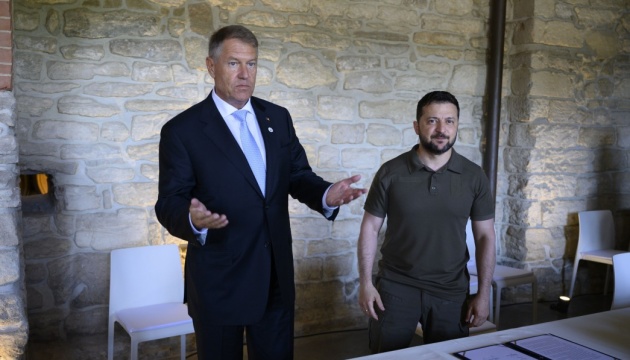 Romania supports Ukraine on its way to EU, NATO - Presidents sign declaration
In Moldova, President Volodymyr Zelensky discussed with the President of Romania Klaus Iohannis the need to increase sanctions pressure on Russia, bring the aggressor to justice and support Ukraine on its way to the EU and NATO.
The leaders also signed a joint declaration, Ukrinform reports, citing the President's press service.
In particular, Zelensky thanked the Romanian people for their solidarity with Ukraine and separately thanked Iohannis for his personal contribution to supporting our country and strengthening its defence capabilities.
He noted the importance of Romania providing temporary asylum to Ukrainian citizens who were forced to flee their homes as a result of the aggressive war unleashed by Russia.
The two leaders discussed further steps in Romania's assistance to Ukraine to counter Russia's invasion, including strengthening international sanctions policy and bringing Russia to justice for war crimes committed on the territory of our country.
The talks stressed the importance of increasing support for Ukraine on its path to the EU and NATO. According to the Presidential Administration, the signing of a declaration of support for Ukraine's Euro-Atlantic integration by the heads of state was evidence of this clear position on the part of Romania.
"The signing of this document is an important step on the eve of the July NATO Summit in Vilnius," Volodymyr Zelenskyy emphasized.
Particular attention was paid to the implementation of the peace formula as a basis for ensuring a sustainable and just peace on the continent and restoring world order.
During the meeting, the leaders exchanged views on topical issues of bilateral cooperation, in particular in the areas of trade and logistics, as well as humanitarian cooperation.
The full text of the presidential declaration is available on the website of the Ukrainian President.
In particular, the document states that Ukraine and Romania expressed their readiness to hold bilateral consultations on international guarantees of Ukraine's security for the period until Ukraine becomes a NATO member on the basis of the Kyiv Security Treaty dated 13 September 2022.
Romania also supports Ukraine in "becoming a NATO member as soon as conditions allow".
As reported earlier, President Volodymyr Zelensky is on a visit to Moldova on Thursday, where he took part in the opening of the European Political Community summit.