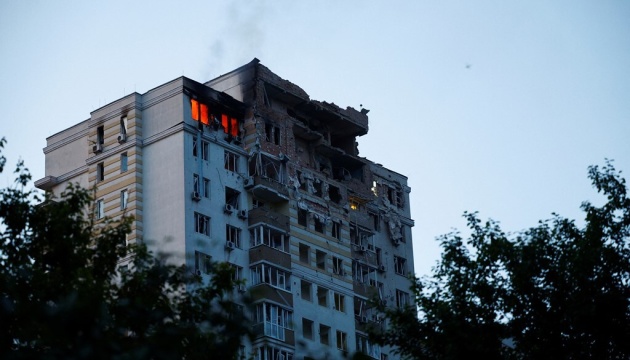 Night attacks on Kyiv: sociologist compares Russian strategy to Nazi bombings of London
In particular, regular night attacks on Kyiv are a form of pressure to achieve psychological exhaustion and readiness for peace on any terms.
However, the Russians' expectation that they can achieve this through such actions is based on ignorance, and if they had studied history, they would have realised that they were only increasing resistance and hatred towards them and consolidating Ukrainians.
This opinion was expressed in a commentary to Ukrinform by Yevhen Holovakha, Doctor of Philosophy, Professor, Director of the Institute of Sociology of the National Academy of Sciences of Ukraine.
"At least in 1939, when the Second World War broke out, this was the strategy formulated by the German Nazis towards the UK. In fact, they were hoping that the constant night bombing of London would make the British more receptive to the German conditions for ending the war," the expert said.
In his opinion, by doing so, the Russians are achieving the opposite goal, because, firstly, they are consolidating Ukrainians, and secondly, they are strengthening our understanding that the more they use such methods of aggression with attempts to destroy infrastructure and civilians, the more Ukrainians will seek to stop them at any cost, as peace is impossible as long as they exist as an aggressive and crazy country.
At the same time, Holovakha believes that all this has psychological consequences for Ukrainians. According to sociological data cited by the scientist, the full-scale invasion showed significant psychological consequences last year. Before the "great war", only 4% of people constantly had nightmares and horrors in their dreams, but in the autumn of 2022, this happened to almost a third of Ukrainians. Before the war, 10% had a constant state of anxiety, and in the autumn of 2022, this figure rose to 40%.
As reported earlier, Russian troops carried out more than 20 missile and drone attacks on Kyiv in May, most of which took place at night.
In particular, a 9-year-old girl, her mother, and another woman were killed in the latest missile attack by the Russian Federation on the Ukrainian capital on the night of 1 June. All events planned for Children's Day on 1 June were cancelled in Kyiv.