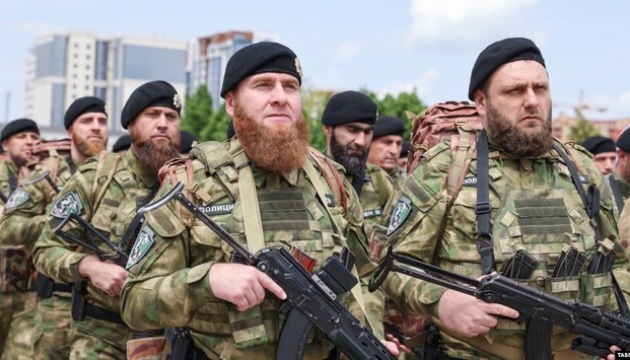 Kremlin may be attempting to replace Wagner mercenaries with Kadyrovites in war against Ukraine - ISW
Russia may be attempting to replace the Wagner forces with units of Chechen leader Ramzan Kadyrov to continue offensive actions in Ukraine.
This is said in a new report released by the Institute for the Study of War (ISW), according to Ukrinform.
It is noted that the Russian military command has likely ordered Chechen Republic Head Ramzan Kadyrov's forces to begin offensive operations in Ukraine following the withdrawal of Wagner Group forces from Bakhmut.
Kadyrov claimed on May 31 that Chechen forces received a new order and assumed responsibility over the Donetsk region frontline. Also, Kadyrov claimed that Chechen units need to start "active combat activities" and "liberate a series of settlements."
According to him, Chechen "Akhmat" Special Forces (Spetsnaz) and the "Sever-Akhmat" Special Purpose Regiment transferred to the Marinka direction.
Kadyrov noted that the Russian military command ordered Russian, Rosgvardia (Russian National Guard), and Chechen Akhmat forces to begin offensive actions along the frontline in Zaporizhia and Kherson regions as well
As reported, the day before, some media published information that Chechen Republic Head Ramzan Kadyrov promised revenge for the drone attack on Moscow.
According to Russian media, about 25 drones attacked Moscow and Moscow region, most of them were shot down by air defense in Moscow region, some of the drones got caught in trees and wires because they were flying at an extremely low altitude. Three drones crashed into residential buildings, but one of them did not detonate an explosive.
Photo: Kavkaz. Realii