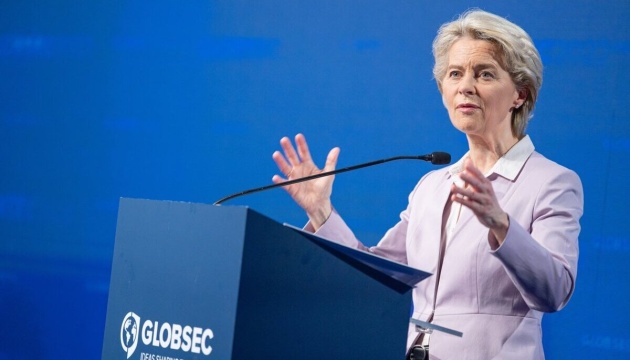 Von der Leyen names two ways to achieve lasting peace in Ukraine
The European Union supports President Volodymyr Zelensky's Peace Formula to achieve a lasting and just peace in Ukraine, which is possible only if Ukraine is able to deter Russian aggression using powerful defense capabilities.
European Commission President Ursula von der Leyen said this in her speech at the GLOBSEC 2023 Bratislava Forum, according to an Ukrinform correspondent.
"A just peace for Ukraine must also be a lasting one. And to be a lasting peace for Ukraine, it must be strengthened in two vital ways. The first is ensuring the long-term security of Ukraine. I welcome ongoing discussions on how Ukraine's security can be guaranteed. There are different models and historical examples that can be used. A collection of such guarantees by like-minded states can offer what some have called 'deterrence by denial.' In other words, providing Ukraine with the military equipment to fortify itself against Russian attacks in the future," she said.
Von der Leyen emphasized that the European Union strongly supports President Zelensky's Peace Formula, and each of its ten points is based on the UN Charter or UN resolutions. Zelensky invited countries around the world to join in and build on the Peace Formula. So that the starting point for peace is the rules-based order.
"What is important is that, at the end, there is clarity. Clarity that Ukraine's friends will be there for the long haul for Ukraine's security. Such an arrangement with security guarantees will need to be accompanied by a broader framework of Ukraine's democratic reforms. And here, Ukraine's path towards joining our Union will play a fundamental role. Although everyone knew that we were embarking on a challenging journey, we have given Ukraine candidate status – rightly so. Now we must be by their [Ukrainians'] side every step of the way," von der Leyen said.
She noted that even as Ukraine fights for its survival, Ukrainians are passing crucial reforms to strengthen their democracy. Ukraine keeps advancing towards our Union against all odds.
"And we will keep doing our part to bring Ukraine much closer and much faster towards a just and lasting peace," von der Leyen added.