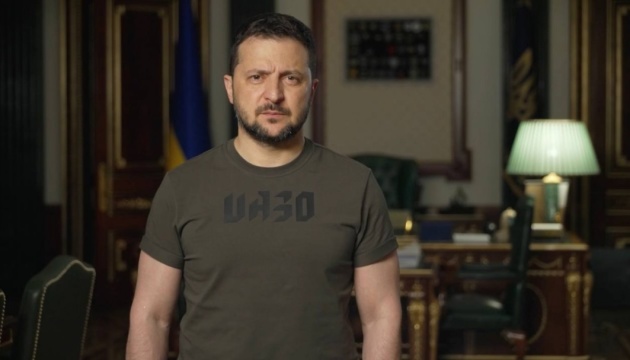 Whether freedom, civilization to preserve global leadership being decided in Ukraine - Zelensky
It is in Ukraine where it is currently being decided whether freedom and civilization will preserve global leadership.
The President of Ukraine, Volodymyr Zelensky, stated this in his address to the nation on Tuesday, an Ukrinform correspondent reports.
"Now, it is precisely in Ukraine, on our land, and in our sky where it is being decided whether freedom and civilization will preserve global leadership in this century. It is decided by us, together with America, together with Europe, together with all our allies and partners. Thank you to everyone in the world who is helping," he clarified.
The president said that on Tuesday, he had met with the delegation of one of the world's leading think tanks – the Atlantic Council.
"I informed the representatives from the Atlantic Council about our main defense needs as of now, at this period in the confrontation. We discussed the steps toward creating a new aviation coalition. We are constantly getting closer to this result – to our forces receiving modern fighter jets," Zelensky said.
The head of state expressed his gratitude to the people of the United States, to each and every one in the political community who supports Ukraine, and personally to President Joe Biden and both parties in Congress.
He also talked about his talks with the British defense company BAE Systems. According to him, "this is a truly large-scale manufacturer of weapons, which we need now and which we will need in the future to guarantee the security of Ukraine and the entire region."
"We are working on creating a suitable base for production and repair in Ukraine. We are talking about a wide range of weapons: from tanks to artillery. We will provide Ukraine, and therefore all of Europe, with such a new foundation of strength," Zelensky assured.
Separately, he thanked the Ukrainian soldiers, all those who are currently fighting for Ukraine, on combat missions and at combat posts.
"The Avdiivka,Bakhmut, Maryinka, and Shakhtarske directions. Thank you to everyone who defends our positions in Luhansk and Kharkiv regions. Thank you to everyone who protects Zaporizhzhia and Kherson regions. Thank you to everyone who keeps our border strong. Our fighting brigades. Our teams, which are ready to go forward. Our intelligence. Our security forces. In all directions and at all levels, the enemy must feel that Ukraine has become stronger. Glory to our heroes! Glory to Ukraine!" said President Zelensky.
As reported earlier, Zelensky said Ukraine hopes that South Korea will provide defensive military equipment, such as air defense systems, to repel Russian attacks.