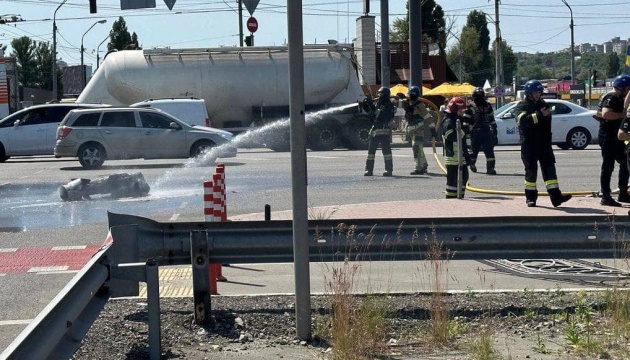 Attack on Kyiv: Missile debris fell in several districts, one person injured
Several powerful explosions were heard in the city of Kyiv during the latest air raid alert. One person has been injured.
Kyiv Mayor Vitali Klitschko reported this on Telegram, according to Ukrinform.
"In the capital's Podilskyi district, medics hospitalized one injured person," Klitschko said.
As of 11:45, there were reports of the discovery of six fragments of Russian missiles. In Obolonskyi district, missile fragments were found near a gas station; on the road surface where ignition occurred; on the green zone. In Desnianskyi district, missile fragments were found in a park. In Dniprovskyi district, missle fragments fell on the road surface in various places.
Kyiv Mayor Vitaliy Klitschko reported on Telegram that loud explosions were heard in the central districts of the capital.
"Explosions in the city! In the central districts," the mayor wrote and urged everyone to stay in bomb shelters.
According to him, emergency services went to the call near the center of the capital.
In Obolonskyi district, missile debris fell on the roadway. All services went to the scene.
As Ukrinform reported, on the night of May 29, Kyiv was attacked by UAVs and X-101/555 missiles, but the air defense forces intercepted more than 40 aerial targets. There were no hits.
On the night of May 28, Russian troops launched 59 Shahed kamikaze drones on the regions across Ukraine, 58 of them were destroyed by the Ukrainian forces. In Kyiv, as a result of a nighttime attack by Shahed drones, one person was killed and two more were injured.