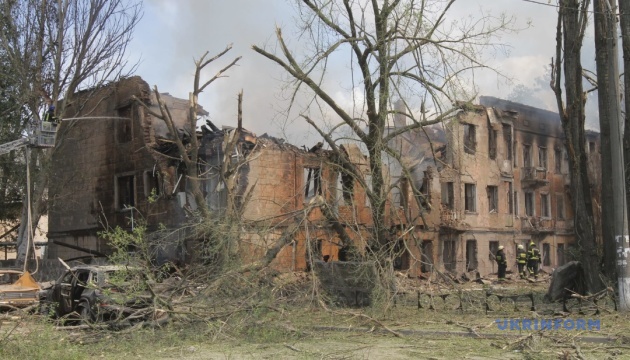 Missile attack on Dnipro: Number of injured rises to 31
In Dnipro, the number of those injured in the morning missile attack has increased to 31.
The regional prosecutor's office announced this on Telegram, Ukrinform reports.
"Two people have died, another thirty-one have been injured, including two children - boys aged 3 and 6," the report says.
It is noted that apart from a healthcare facility and a veterinary clinic, nine apartment blocks, private homes, and cars of city residents were damaged.
Rescue and search operations are ongoing.
Prosecutors, employees of the State Emergency Service and law enforcers of the region are working at the scene.
As Ukrinform reported, May 27 was declared a day of mourning in Dnipro for those killed in the missile attack on one of the city's hospitals.
On the morning of May 26, the Russians launched a missile attack on Dnipro city, hitting a healthcare facility that provides support to people with mental illnesses and a veterinary clinic. A fire broke out on an area of 1,200 square meters. It has been already extinguished.