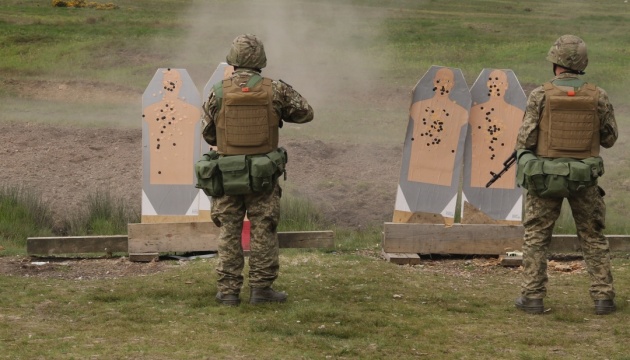 Ukrainian recruits training in Britain working to improve live-fire skills
The Ukrainian Army servicemen, under the guidance of British instructors in Great Britain, have completed training in fire support, having mastered precision shooting.
That's according to the General Staff of the Armed Forces, Ukrinform reports.
"Servicemen-instructors of The Princess of Wales's Royal Regiment of the British Army of the HM Armed Forces hold a comprehensive class with servicemen of the Armed Forces of Ukraine as part of the multinational training operation "INTERFLEX" on the basic military training for the personnel of the Armed Forces of Ukraine in Great Britain on the fire grouping," the report says.
This training makes it possible to master the necessary tactical skills, increases the safety and professionalism of the actions of the Armed Forces of Ukraine, so that servicemen can skillfully use the acquired necessary tactical knowledge for the defense of Ukraine.
Under the expert guidance of instructors of the Armed Forces of Great Britain, recruits of the Armed Forces of Ukraine become better prepared for combat conditions.
"The United Kingdom of Great Britain and Northern Ireland continues to support the people of Ukraine and works tirelessly with our international partners to provide ongoing support to Ukraine in response to Russia's continued violation of international law," General Staff notes.
"This is priceless, as the people of Ukraine continue to fight for their right to live in a sovereign, independent and democratic state," the report concludes.
As Ukrinform reported earlier, instructors with the Australian Defense Forces are conducting basic combined military training of Ukraine's recruits.
Photo: General Staff of the Armed Forces of Ukraine