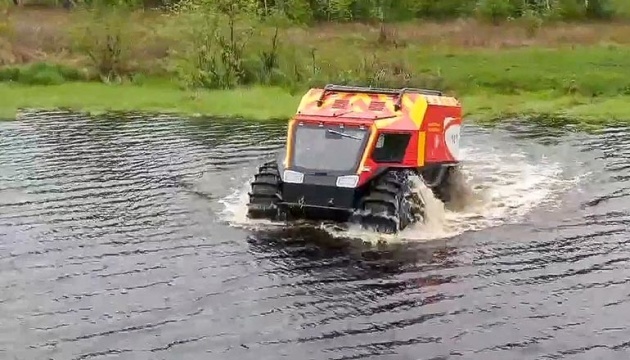 Reznikov tests Ukrainian all-terrain vehicle Bohun
Defence Minister Oleksii Reznikov has tested the Ukrainian all-terrain vehicle Bohun.
Reznikov posted this on Facebook and posted a video, according to Ukrinform
According to the minister, "it is always a pleasure to test the equipment that goes to the front, and when it comes to Ukrainian-made equipment, it is a pleasure."
"Recently, I have been driving the Ukrainian Oplot tank, which we are planning to order for our army. Today we are talking about the Ukrainian all-terrain vehicle Bohun," Reznikov said.
According to him, "two of these are already in operation in different units. For example, a convertible Bohun was made specifically for paratroopers and assault troops, where the cab was removed, and instead, the seats for personnel were equipped, making it an amphibious vehicle."
"Currently, other units are testing the equipment and installing various types of weapons for use in military operations. There is even a version of a medical evacuation vehicle. We have already received requests from individual commanders," added the head of the Ministry of Defence.
Reznikov emphasised that the main value is the life and health of Ukrainian people.
"High-quality weapons and equipment are important for this. Our partners are helping us and will be with us until we win. But the development of the national defence industry is one of our priorities," the Defence Minister emphasised.
According to him, "this is not just about today. We are fighting for independence, for our freedom, which, especially with such a neighbour, is impossible without a strong defence capability."
"And the independence of the defence industry is, in fact, one of the factors of the country's defence capability. This is what we continue to work on," Reznikov said.
As Ukrinform reported, the Ministry of Defence will order Oplot tanks for the Ukrainian army from Ukroboronprom.