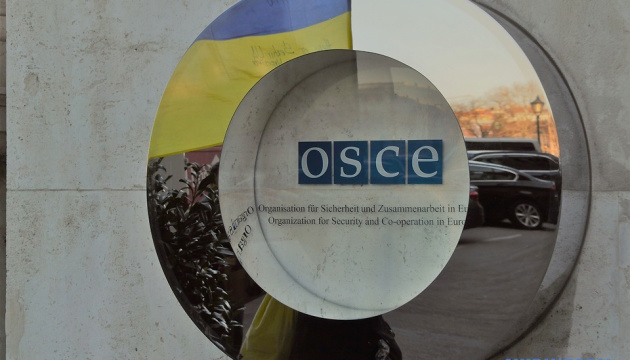 Ukraine at OSCE: Air shield can't be complete without modern warplanes
Providing Ukraine with reliable air defense capabilities has helped protect civilian and strategic infrastructure from Russian missile attacks but modern fighter jets are needed to complete a full-fledged air shield.
That's according to Deputy Permanent Representative of Ukraine to International Organizations in Vienna Natalia Kostenko, who spoke at the OSCE Security Cooperation Forum in Austria's capital on Wednesday, an Ukrinform correspondent reports.
"Providing Ukraine with reliable air defense systems helped protect civilian and strategic infrastructure from Russian missile attacks and save people's lives. Ukraine is deeply grateful to its partners for the assistance already provided, as well as for the decision to train our pilots on modern fighter jets. The Ukrainian air shield cannot be complete without modern aircraft. And their appearance in the Ukrainian sky will be really a historic moment," she said.
Kostenko emphasized the importance of the Russian Federation being "deprived of its tools to commit the crime of aggression against Ukraine" and that "the aggressor state can never again use force against any other country."
"In this context, the principle of preventive security, in our opinion, is extremely relevant for deterring and preventing possible acts of aggression in the future. Therefore, Ukraine's proposals on a package of security guarantees will become a peacekeeping factor for Ukraine and not only," said the deputy head of the Ukrainian mission to the OSCE.
She emphasized the fact that the war is raging on Ukrainian soil, and it is Ukrainians who are choosing their right to independence, territorial integrity, a safe and successful future. "Any peace initiatives and negotiations should be based exclusively on the Peace Formula proposed by Ukraine. We expect that the details of its implementation will be discussed at the Global Peace Summit," added Kostenko.
As Ukrinform reported earlier, the United States considers a priority the task to provide Ukraine with F-16 aircraft, and the handover will be implemented in cooperation with allies and partners in the coming months.
Yuriy Ihnat, the spokesman for Ukraine's Air Force Command, said last week that Ukraine could receive several dozen F-16 aircraft from partners in the first stage of the effort. According to the official, the very presence of modern fighter jets in Ukraine will discourage Russian warplanes from approaching Ukraine's borders.