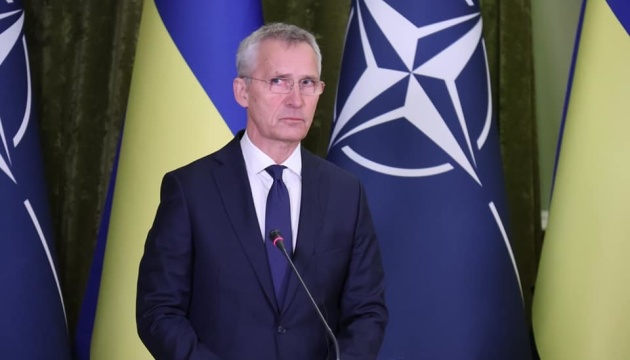 Training of Ukrainian pilots paves way for delivering F-16 fighter jets to Ukraine – Stoltenberg
NATO Allies consistently help Ukraine in its fight against Russian aggression, so the announcement that several Allies are going to start the training of Ukrainian pilots on F-16 fighter jets is a wise decision, which will give the option at some stage to start delivering NATO combat aircraft to Ukraine in the future.
NATO Secretary General Jens Stoltenberg stated this in Brussels today at a press conference following the meeting with Latvian Prime Minister Krišjānis Kariņš, an Ukrinform correspondent reports.
"In the last days, we had the announcement that several Allies are going to start the training of Ukrainian pilots. Of course, that is only meaningful because at some stage then we have the option to also deliver planes. But when that will happen and how and so on, that remains to be decided. The wise thing to do is to do this step-wise, and to start the training. And then, depending on how the war evolves, and how the situation on the ground evolves, then the final decisions will be made on the issue of delivering planes," he said.
Stoltenberg noted that this new initiative also demonstrates important steps in support of Ukraine that the Allies have taken during the past few months. In particular, this concerns the deliveries of heavy weapons to Ukraine, including Leopard, Abrams and Challenger battle tanks and other equipment. Over the past weeks, the United Kingdom has delivered to Ukraine advanced long-range cruise missiles which are already making an important difference on the battlefield.
According to Stoltenberg, this is relevant and it demonstrates the long-term commitment. Because the Allies believe that it is important to ensure that Ukraine has the capabilities, the military strength, to deter against further Russian aggression.
"We need to prevent history from repeating itself, we need to prevent President Putin from being able to continue to chip away at European security. To strengthen the Ukrainian Armed Forces – including their air forces – will be an important part of that. And then fourth-generation, NATO-standard aircraft can be a part of that. When this will happen, it's too early to say. If it happens in the war, it will help them in their war efforts. If it happens later, depending, of course, on when the war ends, it will be useful regardless," he said.
As reported, since the beginning of the Russian military invasion of Ukraine in February last year, NATO and allied countries have provided Ukraine with unprecedented political and military assistance, including the supply of modern weapons - infantry fighting vehicles, tanks, artillery, anti-aircraft defense equipment and anti-tank equipment - which has helped Ukraine to withstand and begin the liberation of its territories that were occupied by the Russian invaders.
Photo: EFE/EPA