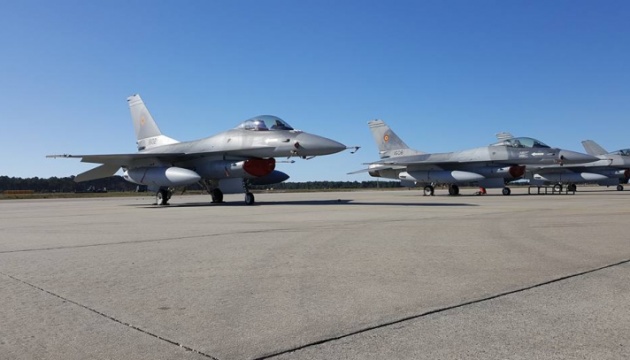 Biden yet to decide on who gives Ukraine F-16s - White House
The United States is determined to support international efforts to train Ukrainian war pilots on modern fighter jets but Washington has still not decided whether it will be the United States or other ally that will ultimately hand over the F16s to Ukraine.
This was stated by Jake Sullivan, the White House National Security Adviser, Ukrinform reports with reference to Politico.
"I think given the numbers [of F-16s] that are currently available from the stocks of our European allies, and the fact that based on the money Congress has given us, there are so many other priorities for systems to give, it may be that we focus more on third party transfer, but the president has not made a final decision," Sullivan told CNN on Sunday.
Previously, Washington officially refused to hand over aircraft to the Ukrainian side, arguing that the Armed Forces currently need other systems, such as artillery, missiles, and tanks. It was also claimed that the transfer of fighter jets would require months for the training of pilots and maintenance technicians, as well as the deployment of infrastructure in Ukraine. In this regard, Sullivan explained that in this way the warplanes would not be able to become a decisive element in the widely anticipated expected Ukrainian counteroffensive, given the timeframes.
However, according to the adviser, conditions are evolving.
"The United States has mobilized an exceptional effort to deliver on time and in full everything Ukraine needs to launch this counteroffensive," Sullivan said. "Now that we've done that, we can look forward to the long-term capacity of Ukraine to be able to defend itself and deter Russian aggression," Biden's adviser explained.
He also noted that the fourth-generation fighter jets, in particular, the F-16s, are relevant to this capacity of Ukraine's Armed Forces.
As Ukrinform reported earlier, President Volodymyr Zelensky of Ukraine and his U.S. counterpart Joe Biden met on Sunday in Hiroshima, where the G7 leaders are meeting. The parties discussed further cooperation to strengthen Ukraine's defense capabilities as well as Ukraine's Peace Formula.
Photo: Ukrainian President's Office