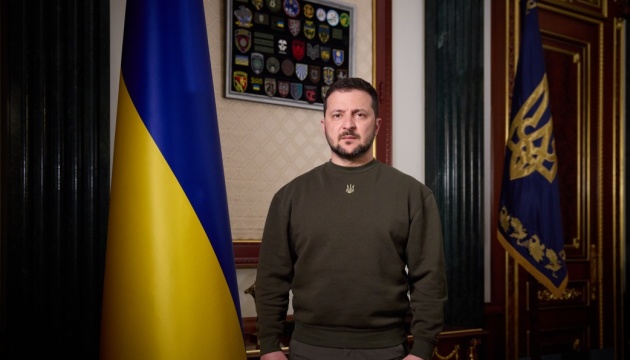 Germany to give Ukraine EUR 11B purely in defense aid - Zelensky
Germany will allocate EUR 11 billion in defense assistance to Ukraine.
That's according to President Volodymyr Zelensky, who spoke in a video address to the nation Monday evening, Ukrinform reports.
"I am grateful to the UK for agreeing to train our pilots. We are creating a coalition to train pilots on modern Western aircraft. The UK agreed, Poland agreed, and I'm sure France and other partners will join. We continue our work on the fighter jet coalition as well, and we are moving forward actively. Of course, I am grateful to the UK for the long-range capabilities for our warriors," Zelensky said.
He also thanked Italy for its help in protecting the lives of Ukrainians – from protecting the sky to preparing for the full post-war reconstruction of Ukraine.
The head of state also thanked Germany for the largest defense package worth EUR 2.7 billion. It includes IRIS-T air defense systems of various modifications, "a lot of missiles" for them, as well as guns, shells, and armored vehicles.
In addition, the president noted that Germany would support Ukraine in the long term, "with 11 billion euros purely for defense."
Germany also participates in the European Peace Facility, which strengthens Ukraine's defenses, Zelensky added.
The president thanked France for new opportunities for Ukrainian soldiers in countering Russian terror, for additional equipment and armored vehicles, and for its help in consolidating partners.
"So, the main results of these days are new weapons for Ukraine, respect for Ukrainians, and our victory has been brought closer," he concluded.
As reported, President Volodymyr Zelensky is visiting Great Britain on Monday, the day before he visited France and Germany, and Italy – on May 13.
Photo: Ukrainian President's Office