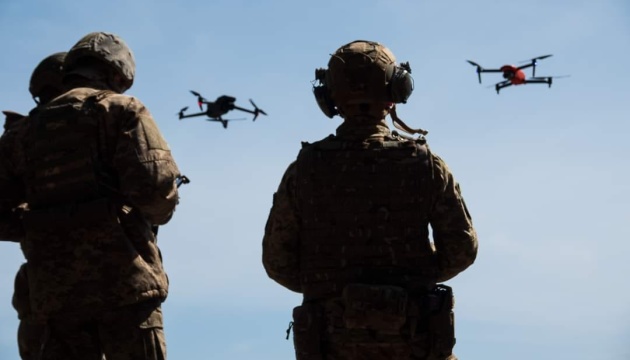 Ukrainian intelligence officers to receive 105 more Vector UAVs from Germany
Ukrainian intelligence officers will receive 105 Vector unmanned aerial vehicles (UAVs) under the contract between the Ukrainian Ministry of Defense and the German UAV manufacturer Quantum-Systems GmbH.
The Main Intelligence Directorate of Ukraine's Ministry of Defense announced this on Telegram, Ukrinform reports.
"This is the second batch of Vector drones for the Ukrainian army, funded by the German government. In August 2022, Ukraine ordered and received 33 German UAVs of the same model, and they have shown their high efficiency on the battlefield," the report says.
The Main Intelligence Directorate notes that "it takes two minutes to start working with the Vector drone". The assembled UAV has a wingspan of 2.8 meters and can be launched by hand.
The Vector UAV is equipped with electro-optical and infrared sensors, which allows it to detect enemy targets round-the-clock, while the robust design of the drone reduces the impact of weather factors. The speed is up to 72 km/h. The duration of one flight is 120 minutes.
Due to secured data transmission channels, Vector can broadcast video to ground stations in real time during combat missions.
"The UAV is equipped with advanced artificial intelligence capabilities for data analysis: built-in algorithms allow it to automatically identify objects and immediately transmit critical intelligence information to the ground," the report says.
As Ukrinform reported, on May 13, Andriy Yermak, the head of the Ukrainian President's Office, said that Germany announced a new military aid package worth EUR 2.7 billion for Ukraine.
Photo: Ukraine's Main Intelligence Directorate, Telegram