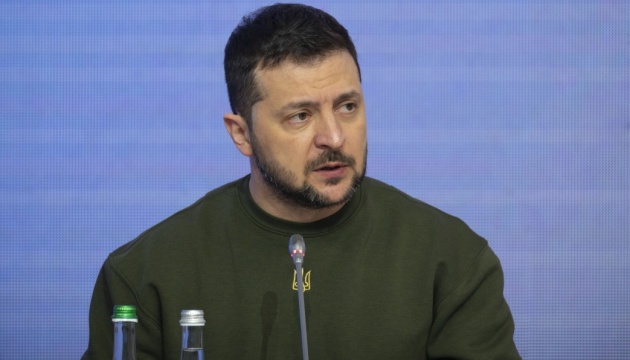 Zelensky talks about Ukraine's preparations for counteroffensive
Ukrainian President Volodymyr Zelensky has said that Ukraine will be ready to launch an anticipated counteroffensive after the delivery of weapons is completed and favorable weather sets in.
He said this in an interview with The Washington Post.
"First of all, we don't plan a counteroffensive for months. This is a priority issue for us, so we had to be prepared in advance with our plans. [...] There are issues in a number of areas. The first issue is, of course, ammunition. I say this as a priority — not because I want to complain, but because it is a resource without which a counteroffensive is impossible. But I want to clearly say that without this resource, the defense of the state is impossible," he said.
Zelensky said that it's not just an issue with regards to the counteroffensive, but "the issue is to have a counteroffensive and to not lose the territories that we have."
"Despite the fact that we are stronger — I think we are more motivated than Russia. But nevertheless, we have to prepare everything and be stocked with weapons and motivated people in order not to lose our own people. Therefore, the most important thing we need are resources for the plans that have already been made. To be honest, this is also influenced by the weather. This is an absolute fact because, let's just say, the ground has to be suitable for our weapons. We don't have such a wide range of armored vehicles," Zelensky said.
According to him, one of the priority tasks for Ukraine's military and political leadership is to minimize human losses. "Our main tactic from the very beginning of the war and even before the war — it was not a tactic then, but my attitude toward people — is that we should be in control of all of our territory but we should also save as many people as possible. During the war, our tactics haven't changed. [...] We understand that despite the counteroffensive — and we will do it — we must ensure that we minimize losses as much as possible. And so, when we say what we need, we need everything that enables us to protect people — artillery systems and long-range artillery," Zelensky said.
He added that Ukraine would be ready for a counteroffensive after the delivery of weapons is completed. "As soon as the delivery of weapons that were agreed upon with our partners is completed, we will be ready for a counteroffensive, of course taking into account the changes in weather. And the goal remains the same — the de-occupation of our territory," Zelensky said.
Commenting on doubts about the transfer of long-range missiles by other countries due to fears that the Ukrainian Armed Forces will carry out strikes inside Russia, Zelensky said that Ukraine is not interested in the aggressor's territory. "I would always tell our partners, "Listen, our task is to de-occupy our territory. [...] We have a priority target for which we are spending the ammunition package we have. And we spend it on the de-occupation of purely Ukrainian territories." But we would need to do that with long-range missiles and systems. So now I don't quite understand, I'll tell you frankly, why we can't get long-range artillery. Because the objective of long-range artillery is definitely not to use it on Russian territory. And I believe that we will cope with this deficit," he said.
He also emphasized the need for modern fighter jets \ for the complete liberation of Ukrainian territories. "We are currently losing in the sky. We always say that the strength of our people outweighs the strength of the Russian Federation. I think we are also stronger than Russia in terms of motivation. On the battlefield, on the ground, we have shown what we can do. But we are absolutely reasonable people. If they have absolute superiority in the sky, then so be it. To solve such a problem, you have to be honest about it. And our partners as well, we would like to get their support to provide us with Western-standard fighter jets, certainly the F-16. There are other fighter jets, [Eurofighters] and so on. There are different names. We work with all of them to obtain something in this area," Zelensky said.
Photo: Office of the President of Ukraine