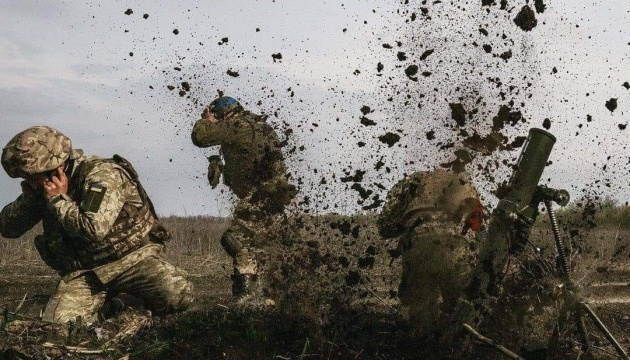 Cherevaty calls 'ammo shortage' of Russians in Bakhmut a fake as 524 strikes launched in past day
Over the past 24 hours, 28 engagements and 524 enemy strikes were recorded in Bakhmut direction. The Ukrainian troops decimated 203 invaders, wounded 216 more, and captured five.
Serhiy Cherevaty, the spokesman for the Eastern Group of the Armed Forces of Ukraine, said this during the national news telethon, an Ukrinform correspondent reports.
"Over the past day, a total of 524 strikes were launched in this direction. The enemy pummeled our positions, so their talks about some kind of ammunition shortage are fake. Twenty-eight engagements and ten air raids took place, 203 occupiers were decimated, 216 were wounded, and five were captured. Also, 11 IFVs, two armored personnel carriers, a light artillery tractor, five field ammunition depots, and one Zala UAV were destroyed," the spokesman said, adding that the situation in this direction is difficult but controlled by the Defense Forces.
When asked what is behind the statements by Wagner Group leader Yevgeny Prigozhin about withdrawal from Bakhmut, Cherevaty noted: "A military disaster is behind these statements. Because when American sources estimate [Russian] losses in this direction at 100,000 killed and wounded, 20,000 killed, it is a very conservative estimate. If they lose at least 100 soldiers killed, and recently more, per day and have no source of replenishment as it used to be from Russian prisons, it is clear that their inglorious story may end there. And so a person who dreamed of some kind of military-political entity, who dreamed that he would be a landlord and own some lands in the occupied territories and in general would influence a lot of things, and now he has to think about how to report on the failure to achieve and seize what he promised."
At the same time, the spokesman noted that the Wagner fighters are still the main attacking force in this direction but they are increasingly forced to use units of the regular army of the occupiers due to heavy losses.
Cherevaty also reported that the enemy was less active in Lyman–Kupyansk axis.
"Three engagements took place, although 555 strikes were launched from different calibers and systems. There were 12 air raids. Fifty-nine occupiers were decimated, 96 were injured, one was captured, and several equipment units, two IFVs, and an Orlan-10 UAV were destroyed," the spokesman said.