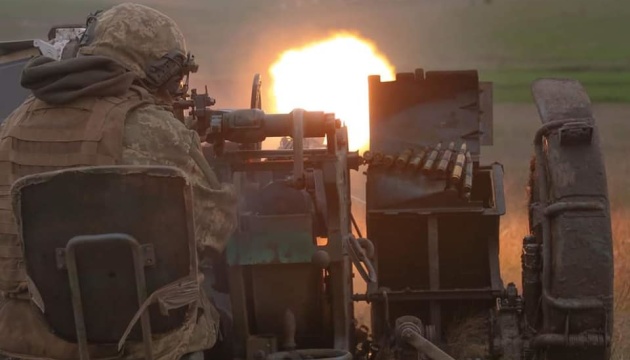 Situation in Bakhmut: eight engagements in past day, 370 invaders killed and wounded
Over the past day, the Russian occupation forces shelled the positions of Ukrainian defenders in the area of Bakhmut city in Donetsk region 375 times. The Ukrainian troops eliminated 166 occupiers and wounded 206 more.
Serhiy Cherevaty, the spokesperson for the Eastern Group of the Armed Forces of Ukraine, said this during the national news telethon, an Ukrinform correspondent reports.
"In our operational zone, the enemy continues to set the capture of Bakhmut city as its main goal. Over the past day, the enemy shelled this section of the front 375 times with various types and calibers of tube artillery and MLRS, there were eight engagements in which 166 occupiers were killed and 206 more were wounded. An enemy T-72 tank, an armored personnel carrier, a light armored tractor, an Orlan-10 UAV, and six field ammunition depots were hit," Cherevaty reported.
Commenting on the statements by Wagner Group leader Prigozhin on the ammunition shortage, Cherevaty emphasized that they need verification.
"All these statements are in line with one main fact that he undertook huge military obligations. He cannot fulfill them because the Defense Forces are killing them [Wagner fighters] en masse, and they have no source of manpower due to many reasons, including the fact that the occupying ministry of defense is already recruiting the prisoners. Therefore, he is looking for any excuse to avoid paying for unfulfilled obligations and has been making this 'white noise' for a month, lamenting that he is not given shells, although they have more than enough shells," the spokesman said.
He also added that the enemy violates all the rules of warfare, in particular, uses prohibited weapons and ammunition.
"They have no ammunition shortage. Over the past day, the enemy used more than 34,000 shells in our operational zone, that is, in Bakhmut and Lyman–Kupyansk directions. What ammunition shortage can we talk about? No, it simply speaks of the criminality of the entire Russian military – from ordinary criminals wearing uniforms to criminals in the so-called Wagner military unit," Cherevaty noted.
He added that Lyman direction remains second only to Bakhmut section in terms of enemy activity.
"Lyman direction is the next one in the enemy's activity. The enemy launched 444 strikes on our combat positions with various types of artillery, seven engagements took place, 55 occupiers were killed, 111 were wounded, and two were captured. Also, an enemy tank, BTR-80 armored personnel carrier, a mortar crew, and three UAVs were destroyed," the spokesman said.
According to Cherevaty, the Defense Forces have changed the composition of enemy groups over the year of the war because the backbone of professional combat brigades was decimated, so now newly mobilized personnel are fighting here. This explains the greater caution of the enemy's actions and lower activity.