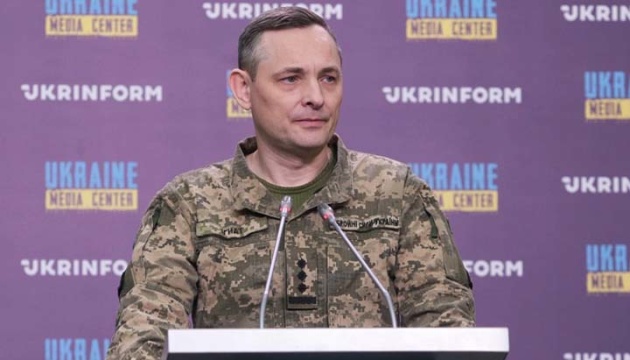 Ihnat: 100% of Russian missiles destroyed in initial wave of launch
In the first wave of the launch, 100% of the enemy missiles were destroyed, and in the second wave, 15 out of 17 were destroyed.
Yuriy Ihnat, a spokesman for the Air Force of the Armed Forces of Ukraine, said this on the air of the nationwide telethon "United News", Ukrinform reports.
"The attack took place around 10 pm. Eight Kalibr missiles were launched from ships in the Black Sea, all of them were destroyed. In the area of responsibility of the East Air Command, we worked 100%. At night, the enemy had already raised Tu-95MS strategic aviation aircraft and launched 17 X-101/X-555 cruise missiles from the Caspian Sea, which were destroyed. Unfortunately, only 15 missiles were destroyed: 14 in the area of responsibility of the Center Air Command and one missile in the area of responsibility of the South Air Command. Thus, we have a total of 23 downed cruise missiles on the night of May 9 out of 25 launched," said Ihnat.
He noted that there is no information on the use of ballistic missiles, especially on their downing.
According to him, ballistic missiles are not only the Kinzhal, but also the Iskander M and other missiles that are extremely threatening to critical infrastructure. In his opinion, Western partners today have a unique opportunity to test their weapons on the territory of Ukraine and demonstrate how effective they are.
"Western manufacturers will have invaluable experience, they will see that it works, how effectively it works. Ukraine will need more such weapons. We will ask for more of them to completely replace outdated Soviet equipment and machinery," the spokesman noted.
As Ukrinform reported earlier, on the night of May 9, Russian invaders attacked the territory of Ukraine with sea- and air-launched cruise missiles. During two waves of shelling of Ukraine, the enemy launched 25 Kalibr and X-101/X-555 cruise missiles. 23 of them were destroyed by the air defense of the Air Force of Ukraine in cooperation with the Ukrainian Defense Forces.