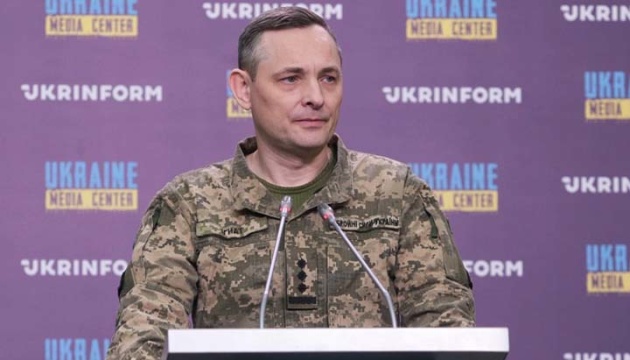 Ukraine alerted due to departure of MiG-31K, which carriers Kinzhal missile - Ihnat
A large-scale air alert in Ukraine was announced due to the departure of a Russian MiG-31K aircraft, which carries a Kinzhal missile.
Yurii Ihnat, the spokesperson of the Air Force Command of the Armed Forces of Ukraine, said this at a briefing at the Ukraine-Ukraine Media Center, an Ukrinform correspondent reports.
"There is an air alert all over Ukraine due to the departure of the MiG-31K, which is the carrier of the Kinzhal. I would like to remind you that we do not have enough Patriot systems that can protect Ukrainian skies from this type of weapon. This is an aeroballistic missile that can fly very fast and very accurately. Therefore, the whole state is threatened. That's why the alert has been declared," Ihnat said.
He once again urged citizens not to ignore the alarms. "Even if you are confident in the air defense system, you should understand that everything that is shot down will fall to the ground - the rule of gravity has not been canceled - so you need to be safe," the spokesman emphasized.
As reported earlier, Lieutenant General Mykola Oleshchuk, commander of the Ukrainian Air Force, confirmed that on the night of May 4, the Defense Forces destroyed a Russian Kinzhal missile over the Kyiv region using the Patriot system.