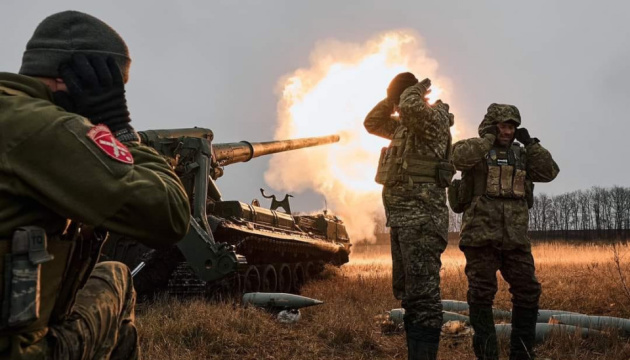 Ukraine Army fulfils 872 firing missions in Tavria direction
Russian occupation forces attacked the positions of the defenders of the Tavria direction 24 times over the previous day. In turn, the Defense Forces completed 872 fire missions, with enemy losses in killed and wounded amounting to almost two companies.
The Commander of the Tavria Operational and Strategic Group of Troops, General Oleksandr Tarnavskyi said this on Telegram, Ukrinform reports.
"The enemy continues to focus its main efforts on conducting offensive actions in the Avdiivka and Maryinka directions. Over the past day, the enemy attacked the positions of Ukrainian troops in the Tavria direction 24 times. They were unsuccessful and pulled back. Using tanks, multiple launch rocket systems and cannon artillery, the enemy is firing at the positions of our units and settlements bordering the contact line. The enemy uses UAVs to adjust artillery fire. In total, 458 attacks were registered in the Tavria direction over the last day," said Tarnavskyi.
According to him, missile troops and artillery units of the Tavria Defense Forces carried out 872 firing missions over the last day. These included both counter-battery combat and work on planned targets identified earlier. Enemy losses in killed and wounded amounted to almost two companies.
In addition, 28 units of enemy weapons and military equipment were destroyed and damaged. In particular, 4 infantry fighting vehicles, 2 Lancet-3 UAVs, 4 armored personnel carriers, 2 Osa anti-aircraft missile systems, an S-300 anti-aircraft missile system, a 2C1 Gvozdika self-propelled artillery system, and vehicles. Four enemy ammunition depots were also destroyed.
As Ukrinform reported earlier, from February 24, 2022 to May 4, 2023, the Armed Forces of Ukraine eliminated about 192,590 Russian military personnel, including 650 soldiers over the past day. Also, as of May 4, the Ukrainian troops destroyed 3,707 (+5 over the past day) enemy tanks, 7,216 (+17) armored combat vehicles, 2,962 (+16) artillery systems, 547 (+3) MLRS, 304 (+4) air defense systems, 308 aircraft, 294 helicopters, 2,523 (+18) operational-tactical UAVs, 947 cruise missiles, 18 ships/boats, 5,886 (+21) vehicles and fuel tanks, 370 (+7) special equipment units.