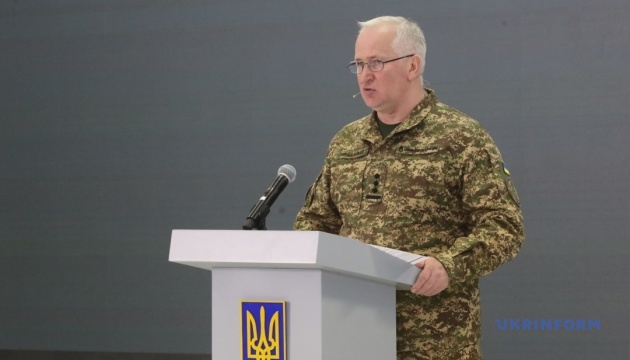 Russian troops panic in anticipation of counteroffensive, Kremlin intensifies propaganda - National Guard
Over the past week, Russia has been focusing its efforts, in particular, on strengthening its propaganda influence on its troops to stop the panic that is spreading there in anticipation of a Ukrainian counteroffensive.
Colonel Mykola Urshalovych, Deputy Director of the Department of Planning for the Use of the Main Directorate of the National Guard of Ukraine said this during a briefing, an Ukrinform correspondent reports.
"Over the past week, the enemy has been focusing on fortifying the lines of contact and intensifying propaganda influence on its troops to stop the panic spreading among its personnel in anticipation of a Ukrainian counteroffensive," he said.
In the Lyman sector, the enemy tried to improve the tactical situation and conducted unsuccessful offensives in the areas of Bilohorivka and Serebryany forestry, said Urshalovych.
According to him, in the Bakhmut sector, the enemy continued to suffer unjustified losses and generally acted according to the scenario of exhausting and exhausting its own units in the face of the inability to seize the strategic initiative from the Ukrainian defense forces.
"In the Avdiivka sector, the invaders conducted offensive actions in the areas of Avdiivka, Vodiane and Pervomaiske, but were unsuccessful. In the Zaporizhzhia and Kherson sectors, the occupants launched air and missile attacks and artillery shelling at our positions, as well as improved the fortification equipment of the occupied borders," the NGU representative said.
As reported earlier, on April 27, Urshalovych said that Russia had moved to the defense on the Zaporizhzhia and Kherson directions.