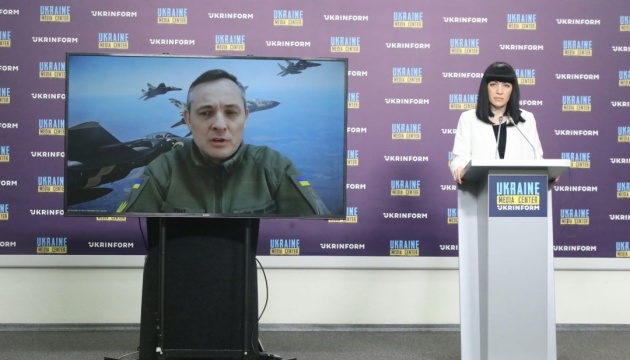 Russia fires almost 20 guided bombs at Ukraine every day – military spox
Russian troops have resumed massive missile and aerial bombardment to destroy Western equipment and critical infrastructure in Ukraine, firing almost 20 guided bombs every day.
Ukrainian Air Force spokesman Yurii Ihnat said this at a briefing at the Ukraine-Ukrinform Media Center.
"To date, the enemy has resumed attacks in accordance with the tasks it sets before itself. The tasks are clear: they are looking for the most necessary [targets] for destruction. They are looking for Western equipment in order to strike exactly what our partners are providing to us today to conduct defensive and offensive operations. Of course, the priorities will always be critical infrastructure, there will always be objects of the fuel and energy sector of Ukraine, because the life of the entire state and the provision of the army depend on this area," Ihnat said.
According to him, the enemy fires about 20 guided bombs on Ukraine every day, and this problem can be solved only with the help of long-range weapons and fighter jets.
"The use of guided bombs along the state border and along the line of combat is a daily problem. Every day, about 20 guided bombs fly into the front-line areas," Ihnat said.
He stated that the bombs travel 70 km and hit kindergartens, schools, and residential buildings. It is impossible to fight the bombs, so it is worth striking bomb carriers - Su-34s, Su-35s, Ihnat said.
In order to confront the enemy, Ukraine needs long-range weapons, because the S-300 air defense system and two Patriot divisions allow hitting enemy targets at a distance of 100-150 km.
Such systems could drive Russian aircraft away from the borders, but there should be many more of them.
"Unfortunately, we do not have many such systems, only two divisions in total. We are waiting for the SAMP/T. We are waiting for a decision on the aircraft that everyone wants to see in the Ukrainian army - this is the F-16, which can fundamentally change all these things, which can counter Russian aircraft on a certain front line," Ihnat said.