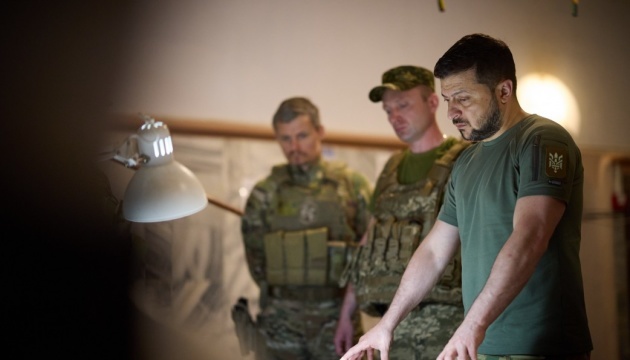 Results of Ramstein meeting, most difficult front sections: Zelensky holds Staff meeting
President of Ukraine Volodymyr Zelensky held a meeting of the Staff of the Supreme Commander-in-Chief, whose participants updated information on the situation on the battlefield, particularly in the most difficult sections.
"The information on the situation on the battlefield was updated, in particular on the most difficult sections. The commanders of the operational and strategic groups of the troops 'Khortytsia', 'Tavria', 'Odesa', 'North' reported on the course of military operations in the areas of the front within the scope of their responsibility. Each of the directions of Ukraine's defense is important. We have no right for Ukraine to have weak points," the President posted on Telegram.
According to him, the results of the regular Rammstein format meeting were considered at the meeting.
"Ukraine and its defense forces are constantly getting stronger. But we have to speed up the pace of weapons delivery because every day of delay is the life of our fighters," Zelensky stressed.
The participants also discussed the progress of staffing and equipping the newly created brigades. "Fighters must be provided with everything necessary for the highest quality performance of the command's tasks to bring our victory closer," the President emphasized.
According to the President's Office, the meeting was attended by Head of the Office of the President Andriy Yermak, Chief of the Main Intelligence Directorate of the Ministry of Defense Kyrylo Budanov, Commander-in-Chief of the Armed Forces of Ukraine Valeriy Zaluzhny, Prime Minister Denys Shmyhal, Secretary of the National Security and Defense Council Oleksiy Danilov, commanders of groups of troops and operational directions, members of the government, heads of security and law enforcement agencies.
The Chief of the Main Intelligence Directorate spoke about the likely actions of the enemy in the near future.
The meeting participants analyzed the provision of the defense units of Ukraine with ammunition and weapons.
As reported, over the past day, the Air Force of the Armed Forces of Ukraine launched nine strikes on Russian military personnel and equipment clusters.