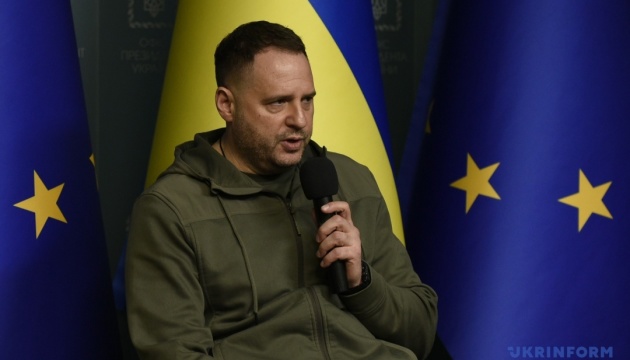 Russian crimes in Ukraine will not have statute of limitations - Yermak
Every Russian aggressor involved in ordering or carrying out crimes in Ukraine will be prosecuted, and there is no statute of limitations in these cases.
Andriy Yermak, head of the Office of the President of Ukraine, said this on national television, Ukrinform reports.
"Invaders will be held accountable for people's lives and crippled health. No one will escape this accountability. Today, the world, primarily under the leadership of Ukraine, is demonstrating that we are very seriously determined. I am sure that everyone, starting from the Russian leadership, who gave shameful criminal orders, to the last soldier who came as an invader to Ukrainian land, will be held accountable. Without a statute of limitations," Yermak said.
Ukraine expects the UN General Assembly to adopt a resolution on accountability for war crimes in Ukraine and support for a special tribunal against Russia in April.
In September 2022, President Volodymyr Zelensky formed a working group headed by Yermak that is working on the creation of a special tribunal to prosecute Russia's leadership for committing the crime of aggression against Ukraine.
The Parliamentary Assembly of the Council of Europe, the European Parliament, the NATO Parliamentary Assembly, the OSCE Parliamentary Assembly and individual countries supported the creation of such a tribunal.