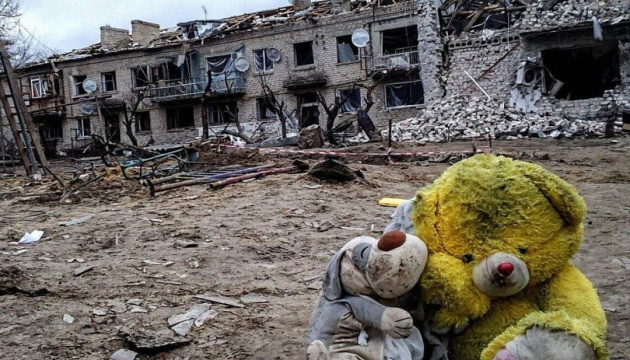 RUSI report highlights role of Russia's intelligence services in aggression against Ukraine
Before unleashing a full-scale war, Russia demanded that the government of Ukraine snub their NATO agenda, which aimed to destabilize the country and facilitate the invasion.
This is reported by Guildhall with reference to the study by RUSI, a UK-based Royal United Service Institute o, dedicated to the role of Russian special services in the preparation and implementation of Russian aggression against Ukraine, Ukrinform saw.
Russia demanded that the government of Ukraine make a U-turn on their NATO accession plans in order to provoke mass protests (similar to the Revolution of Dignity, which was caused by Viktor Yanukovych's refusal to lead the country toward the EU) and internal social destabilization, disorganize Ukraine's military and political administration, which was supposed to significantly facilitate Russia's military invasion, limit Ukraine's ability to resist, and reduce the level of its international support. To this end, Russia's special services employed their assets in Ukraine's top offices, political parties and public organizations of Ukraine, who were coordinated by the FSB's Service 5 and the Main Directorate of the Russian Armed Forces' General Staff (GRU), including with the help of prominent representatives of the Viktor Yanukovych regime: Andriy Klyuev, Volodymyr Sivkovich, Andriy Derkach, and others.
According to the report drafted by British experts Dr. Jack Watling, Nick Reynolds, and RUSI correspondent member Oleksandr V. Danylyuk (former adviser to the Minister of Defense and Head of the Foreign Intelligence Service), Russia failed to provoke an internal crisis in Ukraine for two reasons: first, Western intelligence agencies, along with information on the invasion preparation by Russia, also tipped Ukrainians on the plans and direct executors of internal destabilization. Secondly, the government of Ukraine made no concessions to Russia that the public would see as unacceptable, which in turn could lead to mass protests. Having failed to achieve the necessary prerequisites, Russian special services recommended that the Russian leadership postpone the invasion until the summer of 2022, but Putin did not heed to the advice, which was largely the reason behind the failure of Russia's blitzkrieg.
The authors emphasize that, despite the failure of the original plan and the loss of part of the HUMINT networks in Ukraine, Russia continues to assign an important role to the special operations of its own intelligence agencies, which are still capable of effective stunts. As one of the examples of Russia continuing to use its traditional forms of covert aggression, the report cites the current situation in Moldova, which was sufficiently accurately predicted by the authors back in the spring of 2022. The report emphasizes the leading role of Russian special services in planning and pursuing Russia's aggressive policy, and recommends strengthening countermeasures to tackle them as a necessary element of national and international security and defense systems.
The full text of the report is available on the official website of the Royal United Services Institute.