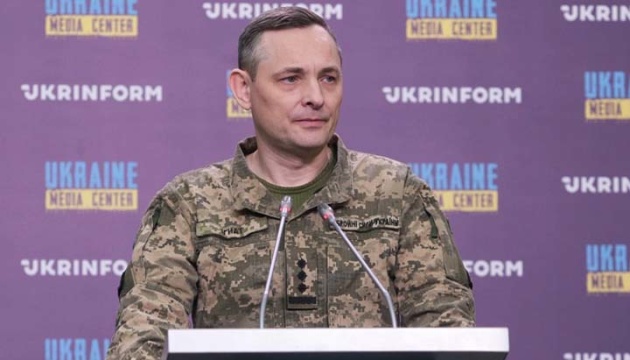 Russia increasingly launching guided air bombs - Air Force spox
As Russia's tactical aviation is becoming more active in the front line zones and the enemy is using guided aerial bombs more often, Ukraine needs long-range air defense capabilities and modern multi-purpose warplanes.
That's according to Yuriy Ihnat, the spokesperson for the Ukrainian Air Force, who spoke at the national telethon, Ukrinform reports.
"We see that the activity of tactical aviation has somewhat increased recently, and that the enemy is now using not only missiles that can fly at fairly long distances, but also guided aerial bombs in the frontline regions," the spokesman emphasized.
According to Ihnat, these are the new threats that should be taken into account, since the enemy began to use them more often. To this end, the most effective method, the spokesman says, is to deny access to Russia's warplanes launching both guided air missiles and guided air bombs.
Ihnat emphasized Ukraine's current need for long-range air defense capabilities and modern multi-purpose fighter jets that will be able to push Russian aviation away from the line of contact and beyond the state border of Ukraine.
Answering the question of what type of bombs and missiles, and what models of aircraft the Russian Federation uses to deliver their strikes, Ihnat said: "It's Fab-500 bombs. These are guided air bombs dating back to Soviet times, which are equipped with wings, and they approach the target using GPS navigation. Thus, a Russian fighter may not enter the strike zone of our anti-aircraft defenses, dropping those bombs 40-50 km beyond state border or the line of combat, that is, from a high altitude. And then those bombs barrage, flying across the border and striking our positions."
He added that usually these bombs are not accurate, so very often they hit civilian objects.
The spokesman added that Russia employs such fighters as the Su-30s (a modernized version of the Su-27), Su-35, Su-34 fighter bombers, as well as attack planes and helicopters.
Ihnat reiterated the fact that, regardless of the type of missiles the enemy launches, Ukrainians must abide by safety rules when air raid alerts go off.
As Ukrinform reported earlier, over the past 24 hours the enemy launched 24 air strikes and 12 missile strikes. Russian MLR systems fired off 55 salvos. Overnight Tuesday, the invaders launched 15 Shahed kamikaze drones, of which 14 were downed.