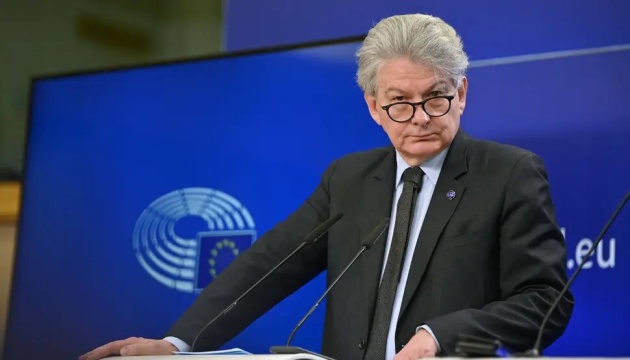 All EU countries should give Ukraine ammunition from their stocks - EU Commissioner
EU countries should give Ukraine ammunition from their warehouses as soon as possible, primarily 155 mm caliber, because Russian aggression will continue.
This was stated by European Commissioner for Internal Market and Services Thierry Breton during a joint press conference with Polish Prime Minister Mateusz Morawiecki and Minister of National Defense Mariusz Blaszczak on Monday at the premises of the Dezamet S.A. enterprise in Nowy Demba, Podkarpackie Voivodeship, Poland, where ammunition for Ukraine will be produced, Ukrinform's own correspondent reports.
"First of all, we have to tell all the EU countries that it is time to give Ukraine the ammunition they currently have in their depots. We are talking about the 155 mm caliber, but also about 120 mm and others. Member states have ammunition in their stocks, and we call on them to provide this ammunition as soon as possible. It is very important that they do it immediately," Breton stressed.
He emphasized that the defense industry of the EU member states should increase their ammunition production capacity, and that his visit to Poland to one of the ammo manufacturing firms is aimed at promoting this idea.
Breton noted that it is now necessary to increase the production of ammunition so it is necessary to consider whether the defense firms have a sufficient number of highly qualified personnel to this end.
The European Commissioner emphasized that the Polish company Dezamet S.A. works in three shifts five days a week, and may also extend working hours over the weekend.
"We need to increase our production, we have the appropriate potential to this end. Eleven member states have plants that can participate in the program," the European Commissioner emphasized.
He expressed hope that there would be an opportunity to increase the production of artillery rounds due to European Commission's cooperation with these member states.
"We are determined to increase our production capacity in Europe in the long term, so that our defense industry produces them on a scale that corresponds to the current geopolitical situation," Breton emphasized.
As reported, the European Commissioner for the Internal Market and Services is currently touring across the EU, studying the capabilities of their defense industry to increase ammo production. He has already been to the Czech Republic, Bulgaria, and France. A total of 11 countries of the European Community are on the official's agenda.
Poland's Dezamet S.A., which employs 700 people, produces artillery rounds, mines, and ammunition for grenade launchers.
So far, about 20 EU countries plus Norway have joined the program for the purchase of a million ammunition rounds for the Armed Forces of Ukraine until the end of 2023. Poland is expected to be one of the program's main beneficiaries. Among the main producers of ammunition, which Ukraine needs immediately, is Poland-based Dezamet, part of the Polish Arms Group.
Photo: Future Image