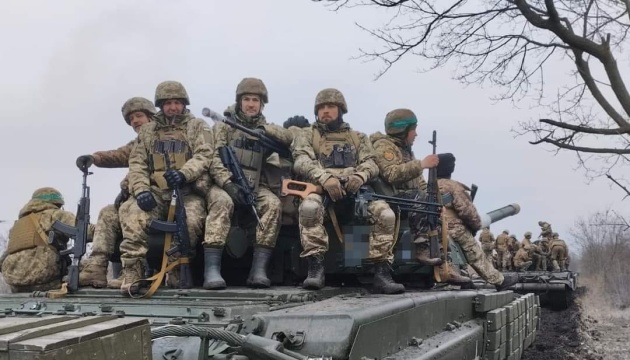 Ukrainian forces repel over 50 enemy attacks in four areas
Ukraine's defense forces repelled more than 50 enemy attacks in the Lyman, Bakhmut, Avdiiv and Marinka sectors on Sunday, March 26.
According to Ukrinform, the General Staff of the Armed Forces of Ukraine said this in a situation update on Sunday evening.
"The enemy is concentrating its main efforts on conducting offensive operations in the Lyman, Bakhmut, Avdiivka and Marinka sectors. Thanks to professional and coordinated actions, our defenders have repelled more than 50 enemy attacks," the post reads.
The aircraft of the Ukrainian defense forces struck Russian troops three times throughout the day. Enemy personnel and military equipment concentration areas came under attack.
Units of the Ukrainian rocket forces and artillery, for their part, hit three areas where the invaders were concentrated, an electronic warfare station, and a Russian ammunition depot.
Throughout the day, the Russian army carried out one missile attack and 16 air strikes, as well as more than ten attacks using multiple rocket launchers.
"The Russian invaders continue to suffer huge losses. This forces them to set up their hospitals on the territory of civilian medical institutions," the General Staff said.
In particular, it was established that Russian troops are using a medical institution as a military hospital in the temporarily occupied settlement of Novovasylivka, Pryazovske district, Zaporizhzhia region. As of March 25, about 200 wounded invaders were being treated there. Civilian access to the medical facility is prohibited.
Photo: General Staff of the Armed Forces of Ukraine