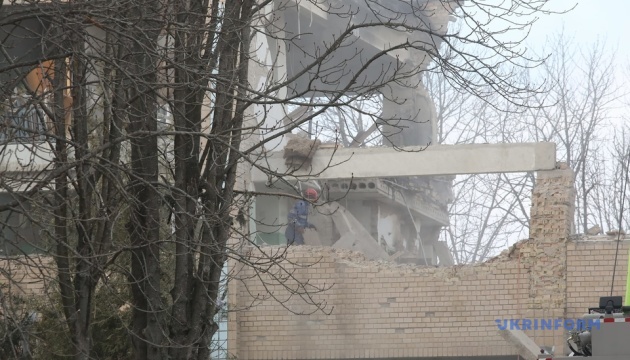 Death toll from night attack in Kyiv region rises to seven
The death toll from a nighttime enemy drone attack on Kyiv region has risen to seven.
Andriy Nebytov, Chief of the Kyiv region police, posted this on Telegram, Ukrinform reports.
"7 dead, 9 injured as a result of a nighttime drone attack on dormitories and an educational institution in one of the districts of Kyiv region. One child is among the victims," noted Nebytov.
He added that 12 drones were shot down by security and defense forces in Kyiv region during the attack.
The chief of Kyiv regional police said on the air of the United News telethon that the police currently have no contact with 3 people.
"We are worried that they may remain under the rubble. Therefore, the work on dismantling the structures is being carried out very carefully. The police are still trying to establish their location. The work is ongoing," he informed.
According to the Kyiv region police chief, eight people were hospitalized with varying degrees of injuries, including a child hospitalized in Okhmatdyt (a boy born in 2011).
Nebytov stated that during the air raid alert, more than 40 reports were received from citizens (on line 102) about UAVs flying over the Kyiv region.
"This allows us to quickly transmit this information through the operational headquarters to the military forces and so on," he said.
As reported, an enemy drone attack took place in Rzhyshchiv, Kyiv region, on the night of March 22. The 4th and 5th floors of two five-story dormitories and a three-story educational building were partially destroyed, followed by a fire.
Six people were reported dead and eight hospitalized, including an 11-year-old child.
The first photo: Telegram, Andriy Nebytov
Other photos: Volodymyr Tarasov, Ukrinform (Consequences of Russian night drone attack in Kyiv region)