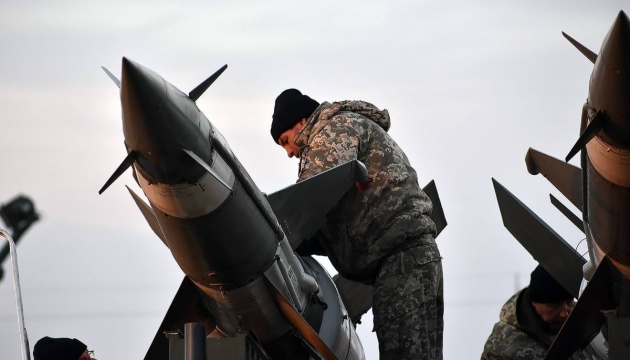 Ukraine unable to down seven types of Russian missiles - Air Force spox
Ukrainian air defenses are capable of shooting down five types of enemy missiles. However, the missiles flying along a ballistic trajectory remain a major issue for Ukraine.
That's according to Yuriy Ihnat, a spokesman for the Air Force Command, who spoke with Channel 24, Ukrinform reports.
"What missiles we can shoot down: it's Kalibr (3M14) - a sea-based cruise missile (which the enemy fires from the Black Sea), Kh-101/Kh-555/Kh-55 - air-based cruise missiles, R-500 (9M728) – a land-based cruise missile launched by the Iskander-K complex (Kalibr's analog), Kh-59 – an air-to-surface guided missile, Kh-35 – an air-, sea-, or shore-based anti-ship missile," Ihnat said.
At the same time, according to the official, it is extremely difficult for the Defense Forces to hit ballistic missiles that move at a very high velocity. In particular, these include: 9M723 - Iskander-M ballistic missile; 9M79M – Tochka-U missile; MLRS munitions; Kh-22 – a supersonic long-range air-launched anti-ship cruise missile; R-800 - Onyx land-based cruise missile; Kh-47 – hypersonic Kinzhal aeroballistic missile; and Kh-31P - an air-based anti-radar missile.
"All these missiles fly fast – along a ballistic trajectory, actually engaging the target at a huge speed. In order to shoot down what is already descending from the sky, special anti-aircraft missile systems are required," the spokesman explained.
Ihnat also noted that even 30% of downed cruise missiles is evidence of the successful performance of Ukraine's air defenses. Currently, the main complexes that are in service with the Air Force are Buk-M1 and S-300 systems.
As Ukrinform reported earlier, overnight March 9, the Russian military launched their latest massive missile attack on Ukraine. During the air raid alert, explosions rang out in Kyiv, Mykolaiv, Kharkiv, Odesa, Zaporizhzia, Zhytomyr, Kyiv, Ivano-Frankivsk, Khmelnytskyi, Ternopil, and Lviv regions.
The enemy launched 81 missiles from different bases. The Defense Forces of Ukraine destroyed 34 of the 48 incoming Kh-101/Kh-555 and Kalibr cruise missiles launched on March 9, and four of the eight Shahed-136/131 kamikaze drones. For the first time, the Russians fired off six Kinzhals at once. It is believed Russia has a total of nearly 50 Kinzhals in stock.