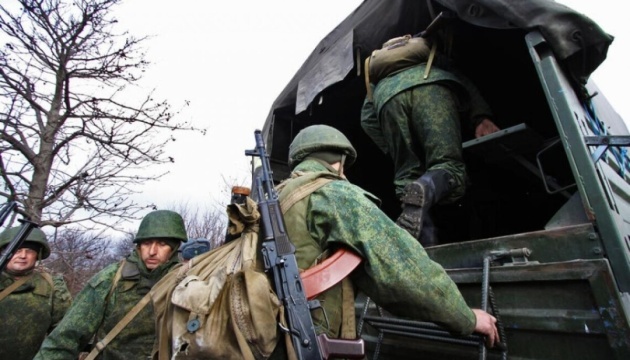 Russians trying to simulate build-up of forces in Zaporizhzhia region
The Russian invaders are trying to simulate a significant build-up of forces in Zaporizhzhia region.
"According to information received from the cells of the resistance movement network in the temporarily captured Zaporizhzhia region, the command of the Russian armed forces continues taking steps aimed at creating an image of a significant build-up of its forces and equipment in the southern direction," the National Resistance Center informs.
As noted, these measures are of a complex nature as they are carried out at the level of demonstration actions with the involvement of weapons and military equipment and a significant increase in the activity of the invading forces in the media environment of the temporarily occupied territory.
In particular, camps for training mobilized Russian citizens with the arrangement of necessary material and educational base and the involvement of necessary samples of weapons and military equipment are dispersed around Melitopol.
At the same time, the key channels of information dissemination in the territory of temporarily captured territory of Zaporizhzhia region are filled with narratives about the successful completion of the next stage of combat coordination of mobilized servicemen and the subsequent formation of new or additional active Russian units which will be used further for offensive operations in the southern direction.
The message is also actively spread that the counteroffensive of the Armed Forces of Ukraine in Zaporizhzhia region will be a fatal step for the top military and political leadership of Ukraine.
The National Resistance Center calls on the population of the temporarily occupied territories not to succumb to the enemy's manipulation and to continue to inform the Armed Forces of Ukraine about the movement and location of weapons, military equipment, and enemy personnel.
As reported, Russian troops shelled civilian infrastructure in the area of Huliaypole, Malynivka, Huliaypilske, Chervone, Zaliznychne, Orikhiv, Novodanylivka, Bilohirya, Novoandriivka, Olhivske, Sviatopetrivka, Staroukrainka, Mala Tokmachka, Charivne, Mali Shcherbaky, Kamyanske, Stepove, Prymorske, Plavni, Yurkivka, Tavriyske settlements in Zaporizhzhia region.