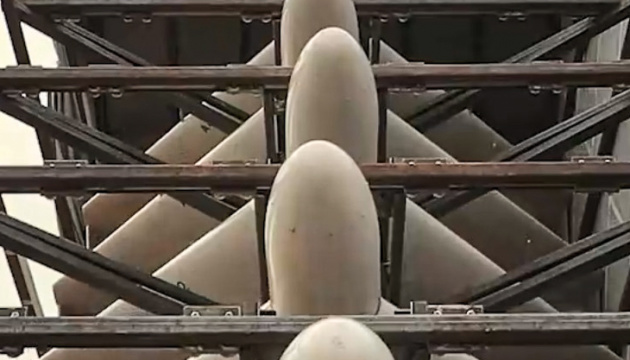 New delivery of Iranian Shahed drones to Russia expected - intel
The Russian Federation has already launched at Ukraine nearly 660 Shahed kamikaze drones out of 1,750 provided for in the contract with Iran.
Another batch of the drones will be delivered soon, says Vadym Skibitskyi, the spokesman for the Main Intelligence Directorate of Ukraine's Defense Ministry, Ukrinform reports.
"As for drones, Russia does have problems with the stocks, including drones. To date, they have used approximately 660 Shaheds. The contract provides for 1,750 UAVs. It also takes time for them to be delivered and prepared. They have used a large amount in recent days, so these stocks need to be replenished. According to our data, now they will have another batch delivered - and we will specify the number," Skibitskyi said, adding that previously, the Russians would receive 250 to 300 units per batch,
The intelligence spokesman explained that the Russians fly these drones at different altitudes and in different directions to bypass Ukraine's air defenses, and also change the areas where the drones are employed.
"The massive swarm of drones is aimed at penetrating the Ukrainian air defense system and hitting their targets. If they launch a smaller number of five to 10 drones, there will be no such effect," Skibitskyi noted.
According to the official, the enemy is now launching drones from the Russian coast of the Sea of Azov, and before that they flew them from Crimea. At the same time, the enemy may choose another direction, on the path of which there are fewer Ukrainian air defense capabilities.
Skibitskyi also assured that the amount of information provided by intelligence services has increased dramatically. For example, GUR reports not only to the top state leadership, but also to the troops and military command bodies. This enables the Ukrainian forces to fully understand what is happening in the enemy camp, and the commanders – to make decisions taking into account updates on enemy reserves, the number of mobilized soldiers, etc., he noted.
As reported by Ukrinform, the Russian Federation and Iran intend to build a factory for the production of kamikaze drones on Russian soil. The Wall Street Journal notes that it is about plans to create an enterprise that will be able to produce at least 6,000 drones for the war against Ukraine, which will perform better than the current Iranian-made UAVs.