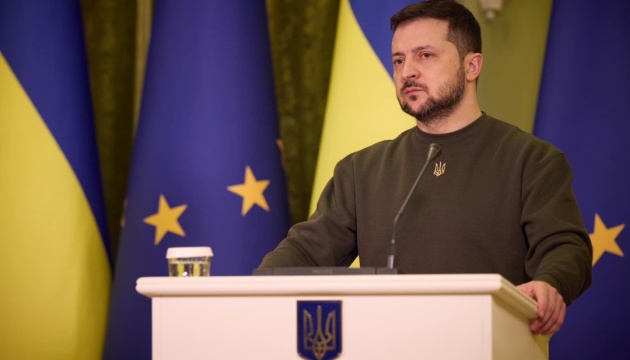 Zelensky: No one will surrender Bakhmut. We'll fight for as long as we can
President Volodymyr Zelensky of Ukraine emphasizes that, if Ukraine receives long-range weapons as soon as possible, its Defense Forces will not only not retreat from Bakhmut, but will also start to de-occupy the territory of the eastern regions previously captured by the Russians.
He said this at a press conference following the Ukraine-EU Summit, an Ukrinform correspondent Ukrinform.
"No one will surrender Bakhmut. We will fight for as long as we can. We see Bakhmut as our fortress... If we have accelerated supply of weapons, especially long-range pnes, we will not only not move from Bakhmut, we will start to de-occupy Donbas, which has been occupied since 2014," the head of state said.
Zelensky noted that Ukraine knows the specific needs to this end, and thanked all the nations "that are by our side on this path."
As reported, on February 3, the 24th EU-Ukraine summit was held in Kyiv.
The day before, a meeting of members of the College of the European Commission, headed by President Ursula von der Leyen, with the Government of Ukraine was held in the Ukrainian capital.